The Rock 'n' Roll Marathon is Sunday. If you're looking to carb-load before the race in the Alamo City, here are some of your best bets:
Fettuccine with Duck Confit (Courtesy)
Tre Trattoria
 (4003 Broadway, 401. S. Alamo). Remember, the Tre's will feature a prix fixe menu for the race. More on that here: Carb Up at Tre Trattoria Before the Rock n' Roll Marathon.
Seafood and fresh pasta (Courtesy)
Spaghetti Combo (Courtesy)
Main Street Pizza(1906 N. Main Ave.)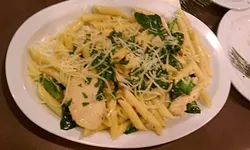 Pasta Formaggi (Courtesy)
Spinach and pasta salad. (Courtesy)
Guillermo's (618 McCullough)
Lasagna with house meat sauce. (Courtesy)
Butternut squash ravioli. (Courtesy)
Nosh
 (1133 Austin Highway)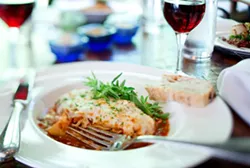 Just one of the five pasta dishes available at Zocca. (Courtesy)
Zocca Cuisine D'Italia, 420 West Market.