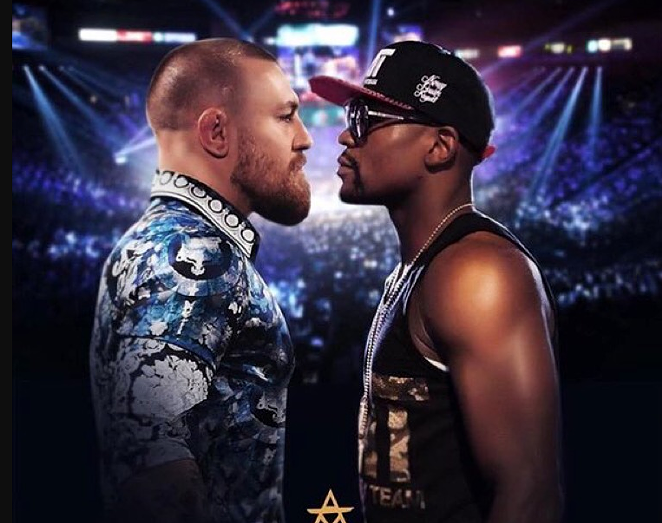 Months of verbal jousting and chest beating culminate August 26 when boxing icon Floyd Mayweather squares up against UFC star Conor McGregor. Combat sports fans are hyped-up to see how the circus plays out between the two biggest stars in their respective sports.
And the combatants know that as well.
The mega fight will carry an $89.95 price tag for standard definition and $99.95 for high-definition. Both price tags certainly have some fans considering alternative (and legal) ways to view the event. If both prices pack a heavy punch to the wallet, here are several establishments that will be offering the fight at more favorable prices.
151 Saloon
// Boxing and music enthusiasts will get the perfect 1-2 punch at the honky tonk. DJ Quake will be in the house mixing country, hip hop and top-40 music after the fight. A food truck will be available for blood hungry fight fans. Dress code will be enforced, and that means no facial or neck tattoos and gym attire are allowed. A $10 cover will be charged at the door, which opens at 4 p.m.
10619 Westover Hills Blvd., (210) 248-9757.
Blue Box
// The hip and trendy bar will be the go-to spot in the Pearl area to enjoy the fight. Expect a fun, vibrant crowd, guaranteed to "ooh" and "ahh" at every punch.
312 Pearl Pkwy., (210) 227-2583.
Brews Brothers
// The two-year establishment draws a diverse crowd and offers decently priced drinks. There will be a $15 cover charge, with a $5 discount being assessed if you check in on social media.
7403 Leslie Road, (210) 633-7129.
Cantina
// The fight will be shown on all of their giant screens. Food trucks, draft and bucket beer and specials are advertised on the bar's Facebook page. DJ C1 will be mixing the hits. Cover is expected to be $20, but subject to change. Text (210) 877-4194 for availability.
6565 Babcock Road, (210) 257-0030.

Little Woodrow's Babcock
// The Medical Center-area watering hole will show the fight on 40-plus television screens. Guests can indulge in $5, 22-ounce Modelo Micheladas, bloody marys and mimosas, and any of the bar's specialty foods, such as bone-in and boneless wings, sliders, queso and salsa and fried pickles. Woodrow's is an enjoyable place to get caught up in the action with friends. Cover is $5.
2535 Babcock Road, (210) 692-1500.
Moses Rose's Hideout
// It would almost certainly be apropos to view the war between two braggadocios at an establishment that is within proximity of where a much more important and historical battle took place. The burgers and drinks are a hit with customers. DJ Necio will be on the 1s and 2s mixing everyone's favorite hits. Cover charge is yet to be determined.
516 Houston St., (210) 775-1808.
Native Wings
// Craving delicious variety foods that will knock your head back? Customers can enjoy fresh bone-in and boneless wings, sandwiches, salads and pizza. Native's wait staff has been praised for its commitment to ensuring sports fans get round-the-clock service while enjoying action-packed events. A $20 cover charge will be administered at the door.
3238 Wurzbach Road, (210) 233-1199.
Ticket Sports Pub
// A "clean, friendly" atmosphere is always promised by the Tickets Sports Pub. The establishment prides itself on sticking to a "basic" drink menu that offers delectables, such as "killer" mojitos, margaritas and bloody marys. The fight will be showcased on 10+ television screens. Fans can reserve seating on the Ticket's website for $35 or pay $40 at the door.
Sarita's Mexican Restaurant #2
// The Fredericksburg Road restaurant is currently offering presale tickets at https://www.Purplepass.com. Tickets are $20 until Aug. 19, $25 from Aug. 20 to Aug. 25 and $35 at the door on Aug. 26, cash or credit. The food and service has been acclaimed to be great.
8224 Fredericksburg Road, (210) 265-3723.
Whiskey Tree
// This establishment is a "terrific" spot to enjoy refreshing beverages and delicious meals while in the accompaniment of friends. Live music can be enjoyed during and after the fight. Cover is also $10.
7905 Bandera Road, Suite 3, (210) 758-5376.