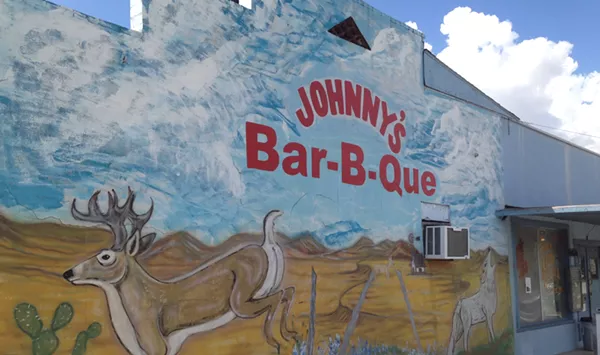 Nestled in the foothills of South Texas, about 45 minutes east of downtown San Antonio, lies the sleepy little town of Seguin. Home to a private college — Texas Lutheran University — as well as some surprisingly large national corporations, Seguin still has enjoyed an unexpected anonymity to a vast majority of San Antonians ("Seguin? Where's that?" is what I most often incredulously hear when the topic of conversation steers that way.)
And so it was one morning that I found myself driving aimlessly through country roads and idyllic scenes seemingly spilled out of a Rockwellian Saturday Evening Post world of yesteryear, when I happened upon a small and deeply unassuming
Johnny's Bar-B-Que
not five minutes from the city's center square (the resting place of the World's Largest Pecan, didn't you know?).
What appears to be a front door is, in reality, a portal to another time, revealing an interior frozen and unchanged, even as society changed around it did. It is … utilitarian. Functional. Old. Original. Retro. Untouched. Kitschy. More words of this sort. The icebox pies at the back of the store are displayed behind glass in what must be the original cooler installed when the building was first breathed into existence, who-knows-when. The numerous deer heads on the walls watch you as you make your way to the counter to place your order.
And you're in love.
"This is a good place," you say to yourself, knowing full well that "good" stands in for every superlative you could possibly dream up.
The barbecue? Passable.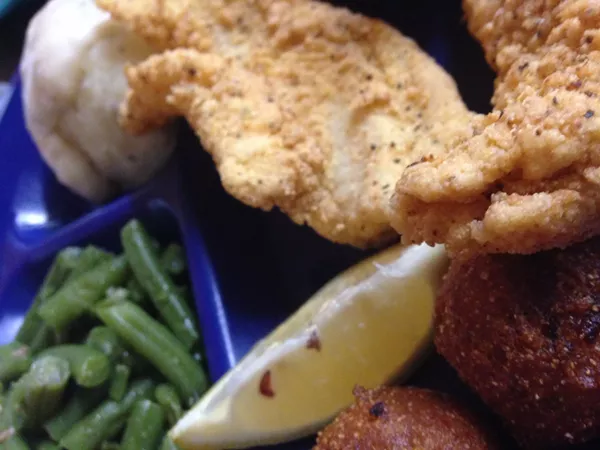 But, it's the fried catfish that you're here for. It must be had. And it will be had. Every day.
Thick chunks of tasty catfish – not overly fishy, just right. Light and flaky with a perfect amount of cornmeal batter popping with flavor, just like your mama would make, if she could cook like this. Fried to perfection and served with cool, creamy tartar and cocktail sauces (please don't insult us with ketchup), this melt-in-your-mouth goodness is a taste sensation that, just like Johnny's itself, is a little bit of heaven on earth.
Johnny's knows it's good. That's why it's also got the all-you-can-eat-all-day special on Fridays. Served with your choice of two sides (I chose the hushpuppies and fries, and I recommend you do, too), this isn't healthy eating. This is necessary eating. This is necessary living. This … is Texas.
6036 TX-123, Seguin, (830) 379-0275; Johnny's Bar-B-Que is open 10am-7pm Mon-Wed; 10am-8pm Thu-Sat.