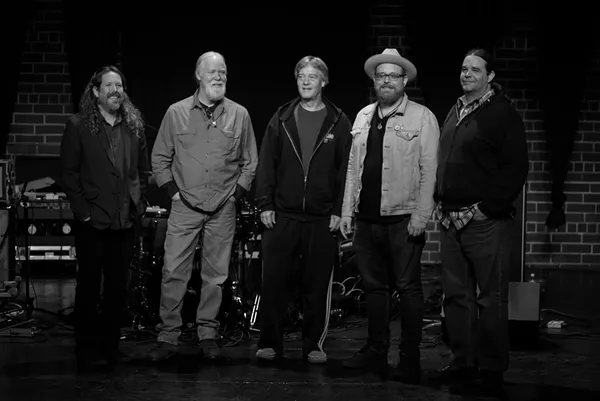 courtesy of Jimmy Herring and The Invisible Whip
San Antonio, get ready for guitar aficionado Jimmy Herring and the 2017 debut of his new touring band The Invisible Whip. Described as "a musician's musician," Herring can be found smiling as he shreds on lead guitar with his legendary jam band Widespread Panic. The guitarist has also grooved alongside the likes of the Grateful Dead, the Allman Brothers, Colonel Bruce Hampton and the Aquarium Rescue Unit, to name a few. Jimmy Herring and The Invisible Whip draw from all aspects of Herring's storied career, beautifully blurring the lines between musical styles and bucking labels of musical genres.
As an admitted super fan of both Widespread Panic and Jimmy Herring – affectionately describing my location at Panic shows on the "Jimmy side," I had the distinct pleasure of getting to speak to Herring in preparation for his upcoming show at the Tobin Center. I starting the interview with a bit of nerves but Jimmy overwhelmed me with his graciousness and gratitude, beginning and ending the interview with heartfelt thanks:


It's an honor to get to speak with you. I've been listening to your music and your projects for a really long time, so thank you.
Oh my God, well thank you. You're the one who needs to be thanked.
You were last here in San Antonio with Widespread Panic in 2015 and you are coming on the 31st with The Invisible Whip. What does it mean to tour right now with this group of folks given all of the folks with whom you've gotten to tour?
It's like driving a sports car - it's nimble and it's smaller. It's smaller not just in numbers of people in the band, but it's just a smaller vehicle and you can corner quicker, you can brake faster, you can take off faster as opposed to another type of band that's a bigger thing.
Well you're lucky to get to play at the Tobin Center – Carlos Alvarez Theater. It's a beautiful space. You've had the awesome experience to be able to play all over the world, talk about some of your favorite venues to play in and what made them special?
People like different things about venues. You can't even start without mentioning Red Rocks, Colorado. It's a really special place, when you talk about just a beautiful place to play, but when you start talking about a rock 'n' roll club, or when you start talking about the place where the sound is the best, these are the kind of things that might be most important to someone like me. Well, depending on the size of the group you're playing with, I like The Joint in Vegas. As far as rock 'n' roll clubs in America, I can't think of a better place to play than there because it feels like a club, but it's really a theater.
The Tobin Center - Carlos Alvarez Theater - I think you'll be so pleased with the sound design - acoustically it's really intimate and special. I'm hoping that you'll be excited about that.
I am very excited about that. That's what matters to me the most. Not how ornate a place is, or anything like that, it's just you want to go to a place where the music has a place to go. When you play you want the room to feel good, you know what I mean?
For sure. Playing off that question – there are folks like me who know all about you, but what would you say to folks here in San Antonio who haven't heard your music before? What might they expect?
That's a really good question. In this band, we really don't think about lines between styles of music, and we love jazz, and we love blues, and we love R&B, and we love ballads, and we love heavy stuff. It can be any of those and at any given time, but I wouldn't call it one or the other because we as musicians, we just love music and so hopefully when we play it'll reflect that. I can't say we're a rock band, or I can't say we're a jazz group, and I can't say we're a blues band. It's any and all of those things, and hopefully people will enjoy it. That's what I would hope.
That's perfect. Down here in San Antonio we struggle a little bit with an Austin complex - everyone always thinks of Austin as the music place, but the thing I like about San Antonio, it really is "come as you are " - it's very accepting. It's not trying to be something bigger or badder, it's just San Antonio. I really like that about it, so I think exactly what you said - not trying to fit a mold - not trying to fit into a genre is a perfect answer for a San Antonio crowd.
That's wonderful. I have played in San Antonio over the years a time or two, but one thing I know is I love Texas. I've never been anywhere in Texas that I didn't love. I love the history of Texas, I love the music that the place is famous for, all the way back to western swing. I love western swing, I love Texas blues, and I love the whole history of the place so I'm looking forward to it.
Your tour schedule is so intense with The Invisible Whip, and then John McLaughlin and The Fourth Dimension, and Panic dates. Whatever possibly do you do when you get the chance to have some time off?
This schedule coming up for this year is pretty insane. It's actually crazy, but I can't complain. I look around me and my friends like Derek Trucks and Warren Haynes. And look at James Brown's schedule - they called him the "hardest working man in show business," so I have nothing to complain about. When I'm home it depends on how long I get to be home. If I'm only home for a short time I barely leave the house. I just sit on the back porch with my wife and drink coffee and watch the hummingbirds. The hummingbirds are just on fire this time of year. There's a bunch of them hanging around the feeders and they're bird-dogging each other. That's a lot of fun. I guess I like to hit the mountains on motorcycles and go out and do that. I like to go fishing a lot, but I'm not going to get to do any of that between now and the time that the crazy part of the year begins.
What people don't ever understand is if you don't leave for three weeks – they think you've got three weeks before you have to do anything. But you can't just not play for three weeks and then expect to hit that first gig three weeks from now and be in shape. I don't know, I guess it's sort of like sports. You have to train. I say train, that's a formal word … Well "train" is sort of the wrong word because I'm 55 now. I don't look at it like training. I just go play, and if you stay in touch with it every day, that's really all I try to do is maintain. I like to practice but I don't really think of it as practice because practice kind of implies that you sit down there and you go through a regimen or something, and that's not what I do. I just go play.
It goes back to your sports car analogy - you've got to keep the sports car maintained in order to keep it nimble.
Yeah, that's true. I think of it like that. We're far from a sports car because we're older now, but we do have a couple younger guys in the band. We have a 32-year-old bass player, Kevin Scott. He's the young man in the band and then Jason Crosby is in his early 40s. To us that's pretty young. It doesn't feel like we're old or anything even though I know we're getting old, but it just doesn't feel that way. We go out and we play and we have the same good time that we've always had.
Maybe my taste has mellowed a little bit and I'm not trying to play super fast all the time anymore. I think the music has to take you wherever it takes you and if it takes you to a place where it's insanity and you play fast then it takes you there. When I was younger of course I thought I would work on that more than anything else.
I get it completely. Listen, I started this and you thanked me, and I've tried not to act like a super fan, but you definitely have a lot of passionate fans all over the country and world. I guess I'd end by saying what would you say to your list of current fans and those new fans you will have after the show?
I am just so grateful. You guys that come hear the music and support live music, you make it possible for us to go do this. Nobody cares about getting rich, but you got to make something to pay for the trip, for the gas in the tank and everything. Without you guys we can't get there - so you guys are every bit as important as every musician on the stage, and we are all so grateful to all of you and we just want to really make that very clear. In real life, music is so important and when people get it and they support live music, they're doing more than they realize. They're an integral part of making it happen and I just want to say thank you.

Thursday, August 31, $39.50, 8pm, Carlos Alvarez Studio Theater, Tobin Center For The Performing Arts, 100 Auditorium Cir., (210) 223-8624, tobincenter.org.