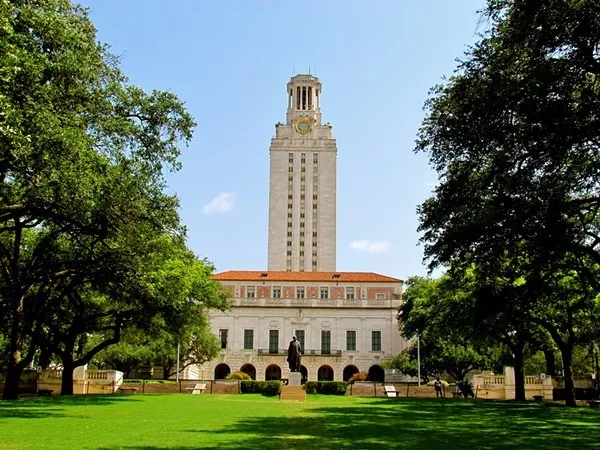 Jeff Gunn via Flickr creative common
On Monday, attorneys for the University of Texas at Austin filed a legal statement in response to a familiar lawsuit, one claiming that UT-Austin's admissions policy unfairly discriminated against white applicants.
It was a pretty light lift from the university's legal team, since UT-Austin's affirmative action policy had already been
ruled constitutional by the Supreme Court in 2016 and given a thumbs-up from the White House
and the Department of Justice — the final chapter in a drawn out, tangled case that took nearly a decade to resolve.
"UT's own experience has confirmed the judgment of the Nation's highest
ranked colleges and universities that student body diversity is critical to preparing students to succeed in the world they will enter when they leave campus," wrote the attorneys.
More than a year since the nation's highest court ruled in their favor, UT-Austin's attorneys seemed confident in their response.
But less the 24 hours later, a leaked document from the Department of Justice hinted that the affirmative action fight at UT-Austin — and universities across the country — may be long from over.
The document,
shared with the New York Times
, was an internal announcement from the DOJ's civil rights division about a new project on "investigations and possible litigation related to intentional race-based discrimination in college and university admissions."
In the eyes of civil rights attorneys and former DOJ employees, this was a definite signal that the Trump Administration was gearing up to unwind the affirmative action policies universities have taken decades to uphold. Policies that less than a year ago had been applauded by President Barack Obama and then-Attorney General Loretta Lynch.
Dennis Parker, director of the American Civil Liberties Union's Racial Justice Program, said that if the DOJ continued down the path hinted at in the leak, it could lead to an "alarming shift" in the way the country approaches civil rights cases.
"The idea that the Justice Department would sue colleges over their inclusive policies is an affront to fairness and sends a dangerous signal that it will no longer work to protect the most vulnerable," Parker said in a press statement.
It's unclear what that means for UT-Austin. The new lawsuit filed against them isn't just coincidental — it's still very much connected to the original 8-year-long case against the university. That's because it was filed by Edward Blum, the Houston man who originally convinced rejected UT-Austin applicant Abigail Fischer to sue UT in 2008 — the lawsuit that ended in the Supreme Court.
Blum used Fischer, a white, high school student with decent grades who wasn't accepted to UT-Austin, as an example of how white students are being discriminated against by UT-Austin's affirmative action policy. Fischer claimed she was denied admission because the university's affirmative action policy prioritized less-qualified minority students of color over white students. The courts, however, found UT-Austin's "holistic" policy (more nuanced than just green-lighting a fixed percent of minority applicants each year)
passed legal scrutiny
. UT-Austin remains the only university in the UT system to consider race in its freshman application process.
This time around, Brum is avoiding federal courts by zeroing in on Texas, arguing that the Texas Constitution does not support UT-Austin's affirmative action rule. That means if challenged, the case would land in the Texas Supreme Court — a far more conservative body than the Supreme Court.
So, could the DOJ's looming attack on affirmative action laws give Brum's case more to work with? Attorneys familiar with the case are unsure.
"I do think there is more vulnerability [in this case]," said Mishell Kneeland, a former assistant attorney general in Texas,
in an interview with the Texas Tribune
. Kneeland helped defend UT-Austin in the Fischer case. Since the policy hasn't been specifically measured against the state constitution, it's hard to be certain of its outcome.
"It is a little bit of an open question," Kneeland said.
UT-Austin would not comment on the DOJ's new interest in race-based affirmative action cases. But university President Gregory Fenves expressed his confidence in the Supreme Court ruling in a statement issued Monday, shortly after UT-Austin attorneys responded to the Brum lawsuit.
"The university believes in and will defend our admissions process, which has not changed since the [Supreme Court] ruling," Fenves said. "UT's pursuit of excellence is grounded in the university's public mission to provide the highest quality education for every student."
What's certain is that Attorney General Jeff Session's stance on racial equality in the county's public university system bears little resemblance to what we saw under former AG Lynch.
"Diverse student enrollment is a vital part of America's educational experience,"
said Lynch in June 2016
, responding to the Supreme Court's ruling on the Fischer case. "Going forward, the Department of Justice will continue to stand up for these principles, and to work with colleges and universities to promote diversity in a way that is consistent with the law."
That may have been a short-lived promise.