Today is National Drink Wine Day so to celebrate we've compiled our favorite wine lushes from television and film.
1. Jules Cobb from Cougar Town
Drink up, Ladies. (Courtesy, ABC)
With a tag line like "Sip happens," it's no wonder that the show tips its glass to the delectable drink proving that wine can solve anything.
2. Miles and Jack from Sideways
sniff and sip (Courtesy, Fox Searchlight)
These two characters are so devoted to wine, they spend an unusual bachelor party/road trip swirling, sniffing and sipping as much wine as they can throughout California's wine country. The trip ends up with Miles dumping an entire spit bucket on himself and Jack with a broken nose.
3. Nic from The Kids Are All Right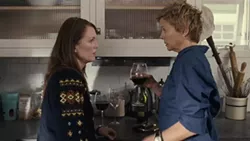 You really gonna drink another one of those? (Courtesy, Focus Features)
Annette Bening's character in The Kids Are All Right is seen drinking a lot of wine at all hours of the day. She has issues with her wife Nic and resorts to drinking which Nic then judges her for. Well if the kids are all right, then what's one more glass of wine right?
4. James Bond in Casino Royale
Women love men who know how to drink. (Courtesy, Metro-Goldwyn-Mayer)
There's no denying James Bond is one classy guy. He knows how to dress and he knows how to drink. He's also arguably one of the most manliest men in pop culture which proves that wine is just as ballsy as a martini.
5. Everyone in The Sopranos
What's rigatoni without wine? (Courtesy, HBO)
Pretty much everyone in The Sopranos drinks wine at some time during the series. It's featured in almost every dinner along with some Pellegrino. Even Anthony Jr. steals wine from church, gets drunk with his friends and one throws up during P.E. class. Wine and Italian food are so prominent in the series, they are a part of the family.
6. Hannibal Lector from The Silence of the Lambs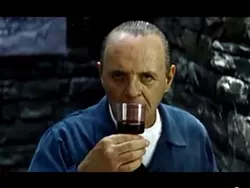 He's scary but he knows his Chianti. (Courtesy, Orion Pictures)
Hannibal Lector is a creepy wino. He knows his stuff when it comes to wine and wine pairings even if it happens to be paired with human flesh. He's the creepiest lush on the list but a lush nonetheless.