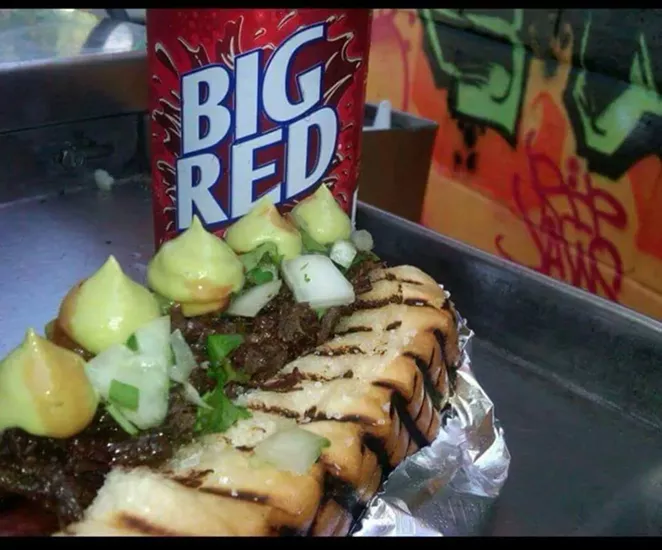 Facebook/WWCD
The Monster Hangover
It's tough to combine two existing businesses into one moniker. So you can't fault chefs Kris Martinez of Rocker Dogz and Adrian Guerra of Winner Winner Chicken Dinner for the funky amalgamation that is
Wine Waffle Chicken and Dogz
, their joint venture at 11319 West Ave. which is currently going through a soft opening phase.
Street food aficionados will recognize names like guacabolas and the Thai Rocker dog, because both Guerra and Martinez helped kick off the food truck trend in SA.
"I remember meeting at The Point five years ago and being blown away by his food," Guerra said of Martinez's gourmet hot dogs.
Both have similar origin stories. Guerra purchased the 1971 camper trailer that he would eventually convert in his driveway for a whopping $350.
"It was as MexiCAN as you can get," Guerra said.
For his part, Martinez left the world of catering trailers for Warped Tour and Aldaco's at Stone Oak to work for himself. He purchased a $3,000 hot dog cart that's been as mobile as it gets — setting up shop at Lava Lounge (now Brass Monkey), Alibi's, Rebar, Rev Room, Rackspace, The Point Park & Eats, Alamo Street Eats Bar, Southtown 101, Hi-Tones, Phantom Room, Korova, Pedicab, The Block and Texas Trash.
And they've both hustled. Hard. Guerra, a former school teacher, eventually got custom upgrades through
Cruising Kitchens
to keep up with demand and Martinez literally weathered all sorts of climates during his late-night shifts.
"It takes a lot to do this grind. I was freezing balls. It was gnarly," Martinez said.
Now Guerra and Martinez, along with business partner Dale Bracey, have 3,500 square feet to work with, all of which are slowly being developed into a dining room and bar. The shop, formerly Ramon's Taco House, mirrors the boot-strap vibes of both vendors with patio furniture and string lights sprinkled throughout. Murals by Mike Comp and Paul Garson fill empty walls with rocker 'toons.
The menu is very much so still in flux, but expect a short menu of favorites from both Guerra and Martinez. The guac-a-bolas — guacamole with grilled chicken and cheese, breaded and fried and served with raspberry chipotle sauce — are back, as are the chicken and waffles and the buffalo soldier sandwich with Texas toast, cheese, bacon, fried/grilled chicken thighs, lettuce, tomato and Southwest sauce. Fans of Martinez will recognize the Thai Kickboxer Dog, Bella Bleu, and El Sancho with its red wine and Sriracha-braised carne guisada, but will also get a chance to eat the monster hangover dog on a more regular basis. Served Saturday and Sunday only, the dog features barbacoa atop the all-beef dog, cilantro and onion and guacamole with a Big Red reduction to boot. Apps are $4-$6 and entrees, served with tricked out tots will set you back $12.
Wine Waffle Chicken and Dogz
's hours are still in the works, but for now the restaurant is open 11 a.m. to 2 p.m. and 5 to 9 p.m.