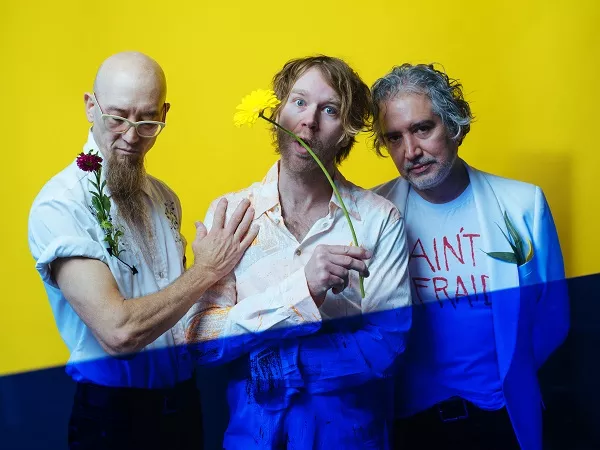 Photo credit: Josh Huskin
Buttercup, left to right: Odie, Erik Sanden, Joe Reyes.
I think that I've finally, after more than ten years trying at it, figured out who Buttercup frontman Erik Sanden reminds me of: Mr. Fox from Wes Anderson's killer, stop-motion adaptation of Roald Dahl's book Fantastic Mr Fox. Sprightly, confident in a self-aware (and thus romantic) kind of way, charismatic, and dashing, Sanden, like Mr. Fox, leads a crack team of conspirators on a seemingly endless, go-for-broke mission.
Sanden's team, which is very much a team in the collaborative sense, is San Antonio's oft-irreverent, always delightful, art-rock/indie-rock stalwarts Buttercup (aka your favorite band's favorite band). The core of the band, Sanden, Joe Reyes, and Odie, has been together since 2002, when, as Sanden told me over the phone last week, the band took its time warming up to recording, instead "obsessed with performance" and the pursuit of "the most novel shows [the band] could push [itself] to concoct."
Photo credit: Josh Huskin
This keen attention to performance, which still manifests in the band's music as well as its live shows, led to the 2004 live DVD
Goodbye Blue Monday
, a nod to the solid year and a half the band spent playing a weekly Monday residency at The Wiggle Room, a now defunct local venue.
Then came Buttercup's stellar debut full length record, 2005's
Sick Yellow Flower
. Since then, the band, always a local and regional favorite, has released three EPs, an album from Reyes and Sanden's side-project
Demitasse
, and two more LPs, 2006's
Hot Love
and 2010's
The Weather Here
.
On Friday, Buttercup will release its fourth full length album (and first since 2010),
Battle of Flowers
, in grand fashion, at the Empire Theatre. Sanden said that this album is kind of roughshod snapshot of the band's progression with collaborators Emilio and Diego Navaira (sons of Tejano icon Emilio Navaira Sr).
Battle of Flowers
was produced by the band and mixed by Larry Crane, who has worked with Elliott Smith (one of Buttercup's clearest influences), Death Cab for Cutie, and Sleater-Kinney.
The album, arguably the best thing Buttercup has ever put out, is dynamic and bursting at the seems with pure rock and roll bliss. It is an album that, finally, captures the spectrum of Buttercup's moods and modes: bawdy but beautiful, reverent but rambunctious, savvy yet saccharine, knowing yet naive. The songs are tight, organically-approached, and full of the off-kilter pop splendor that runs through all of the band's work.
Sanden, who credits the collaboration with the Naviara brothers as "a big part of the reason that [the band] is back," explained that when the band first jammed with the brothers, something "just felt magical." For one, the Navaira brothers have a tremendous ability to "dial in and get everything out of a song," and for another they already knew all the Buttercup songs "better than Odie," Sanden chuckled.
After a few years of sporadic gigs with the Navaira brothers, the Buttercup boys realized that, with things starting to happen in other projects for the Navairas (whose band The Last Bandoleros is really
taking off
), they needed to "capture what [they] can do with [the brothers] immediately."
(At Buttercup's release show, which the Navairas can't attend, Jason Garner of Deathray Davies and The Polyphonic Spree will join the band on drums.)
Battle of Flowers
, then, is the result of that quest to capture this decidedly chunkier and more rock and roll Buttercup sound. Recorded 2015 and 2016, in the midst of some big shows for both Demitasse and Buttercup, the album, possessed by a raw and loose energy, features a tracklist that combines old, previously unreleased favorites with new songs.
The album renditions of longtime live favorites, like "Henry B. Gonzalez" and "Open On/Shut Off," really cook in particular. Other album standouts include "Acting Thru Music," "Swallow Fly," and "Vicious Rewind."
(The album, I'd be remiss not to mention, is being issued on vinyl and features the incredible,
Revolver
-inspired artwork of acclaimed artist
Chris Sauter
.)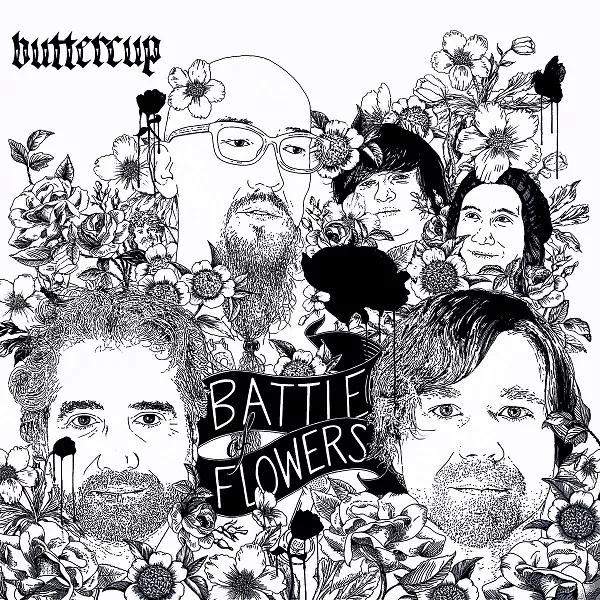 "Battle of Flowers" album art by Chris Sauter
Fifteen years deep into its joyful and (endearingly) idiosyncratic adventure as a band, Buttercup, as a unit, now makes all of its decisions together.
"We tried majority rule for a while," Sanden explained, "But now we don't do anything if it's not unanimous." This approach, which speaks to the trust and admiration that the trio have for one another, is at the heart of why Buttercup remains fresh, relevant, and buoyant after all these years.
It seems that Sanden, like Mr. Fox, has come to understand that the natural strengths of his collaborators are what give him the best chance of success and happiness.
"We love each other," Sanden gushed. "It's like a beautiful, sexless marriage."
"We make each other constantly braver and stronger," Sanden continued, "like when you're with your best friend and they make you just a little more confident, just a little crazier."
Like Mr. Fox, Sanden approaches this new caper, as ever, with his faithful and immensely capable team assembled, each member bringing their natural proclivities and idiosyncrasies to bear, and his humor in tact.
At the release show, Sanden has promised a typically "dynamic range," with the caveat that Buttercup plans to "blow the doors off."
Coyly, Sanden doubled-down on his bluster: "Seriously, I have a feeling we're gonna really let it rip."
Buttercup Battle of Flowers Album Release feat Slomo Drags, CLIFFFS
$20.00-$30.00, 7:30pm, Fri, April 14, Charline McCombs Empire Theatre, 226 N St Mary's St, (210) 226-5700, majesticempire.com.