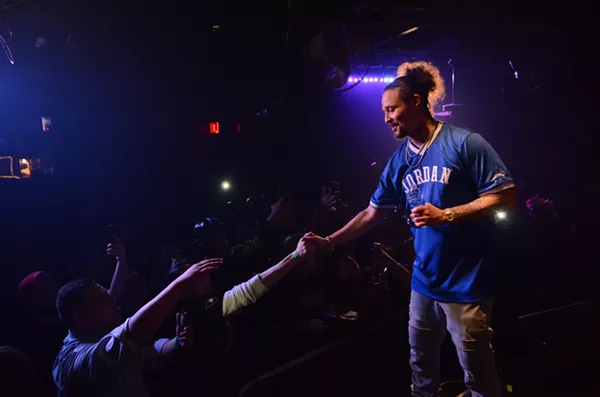 When I found out Bizzy Bone was returning to San Antonio for another solo set, I secretly whispered "yassssss" to myself. The last time he was here I was in Austin covering ACL in 2017, so having an opportunity to actually catch the lightning-fast rapper in my city was a birthday wish come true (I turned 32 earlier this week).
On October, 6 1998 the Bone Thug with the angelic tenor vocal tones released his debut solo record
Heavenz Movie
. And me, being a super duper Bone Thugs-N-Harmony fan copped it instantly falling in love with how personal he got on the album all while navigating over the track's beats like a Tasmanian devil ripping syllabic patterns to shreds with his 30-second notes with the same ferocity as his most hardcore verses in the BTNH catalog.
Twenty years later, Lil Ripsta stepped onto the Fitzgeralds stage Friday night and re-solidified his place as an important contributor to the greater hip-hop story.
A grip of local Texas openers including Lil Yodaa and Justin Case rocked respective sets getting the crowd hyped in the venue as the the audience in front of the stage began to thicken in anticipation for Bizzy Bone to come out to perform.
With a roar from the fans, the rapper descended from the green room onto the stage opening with a brand new track that we were unable to get at the time of this story (the track was hot though, we can say that much.)
The rapper thanked everyone for coming out and cheers crescendoed through Fitzgerald's as Bizzy dove straight into his first heavy single "Thugz Cry" from his debut record. Audience members sang along as Bizzy unleashed his rapid fire verses onto his fans.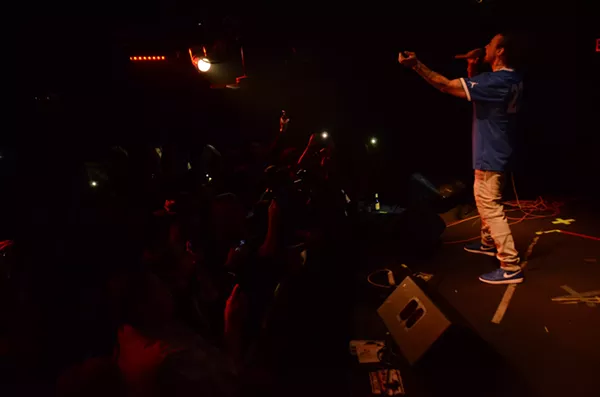 For a little over an hour, the rapper took us through a good chunk of his solo catalog including "Fried Day," from his second album
The Gift
as well as "Nobody Can Stop Me," a track addressing some traumatic experiences from his childhood including sexual abuse. Along with the solo deep cuts, Bizzy threw in some classic BTNH gems including his monster verses from the 2Pac collab "Thug Luv" and "Notorious Thugs," their hit with The Notorious B.I.G. as well as "1st of tha Month." The Cleveland artist closed out his set with the Grammy winning "Crossroads."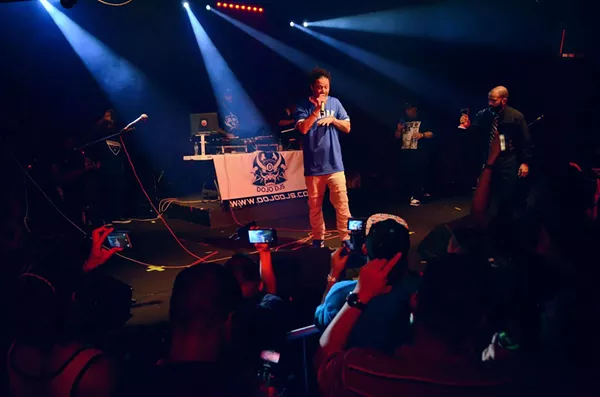 As the crowd sang along to the classic '90s hit, a vibe washed over the venue that sort of reminded me of family barbecue or high-school reunion. No negative energy, just chillin', singing "and I'm gonna miss everybody / and I'm gonna miss everybody" as Bizzy swayed to the music, eyes closed, pulling us deeper into the thuggish, ruggish charm which made all of us fans of the rapper and Bone Thugs-N-Harmony all those years ago.
Get our top picks for the best events in San Antonio every Thursday morning. Sign up for our Events Newsletter.