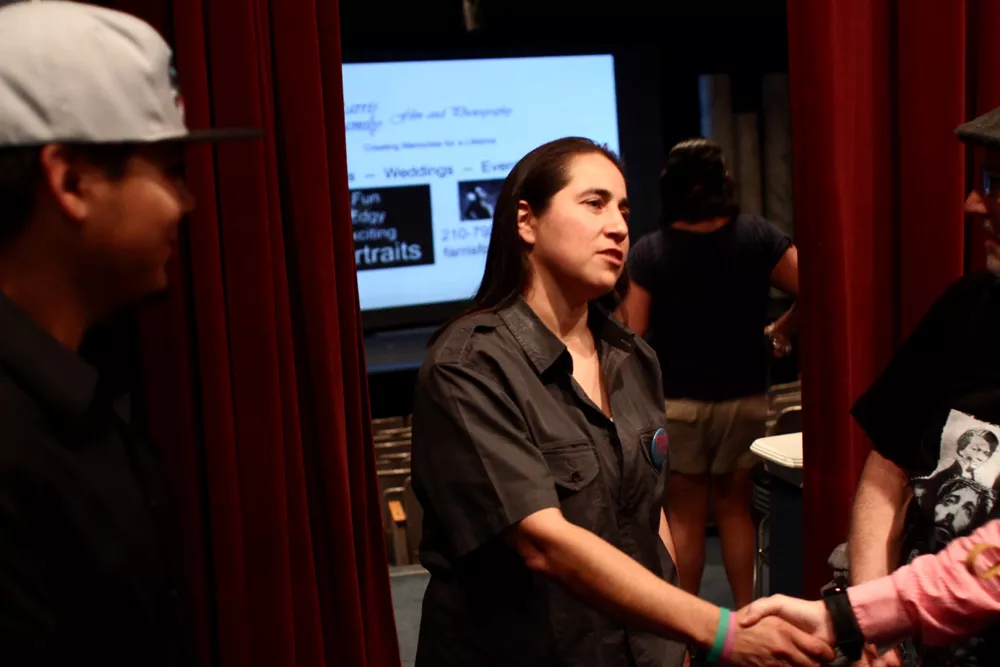 Anna Vasquez says she's twice seen footage from an in-the-works documentary chronicling an ordeal that's lasted nearly two decades. Each time, she says, "It makes me re-live the past It really effects me, but I'm trying to keep it together."
In July 1994, two young girls accused Vasquez and her three friends – Elizabeth Ramirez, Cassie Rivera, and Kristie Mayhugh – of sexual assault. Ramirez's nieces, then ages 7 and 9, claimed that during a week-long stay at their aunt's one-bedroom apartment, the women held them down and savagely assaulted them. The girls told an incredible story of drugs, weapons, and even strange vials of white powder.
The women continue to maintain their innocence. Vasquez even turned down a plea deal in which she would have avoided prison time entirely. Now, after each woman has spent over a decade behind bars, there's mounting evidence the crime never occurred.
Upon evaluating the young girls in 1994, local pediatrician Nancy Kellogg, who now heads UTHSC pediatrics division, speculated the abuse was part of some sordid satanic ritual; the FBI two years earlier had already debunked the theory, which had sparked a nation-wide witch hunt (read more on Austin's Fran Keller case to see how the reverberations are still being felt in Texas). Furthermore, independent experts have told the Current that Kellogg introduced dubious medical findings before the jury as physical evidence the girls had been assaulted, relying on forensics flawed both now and at the time of trial. Another trial just a year after Vasquez, Rivera, and Mayhugh were sentenced indicates Kellogg has more than once introduced faulty forensic evidence in court (a Bexar County judge this year advocated overturning that conviction).
In the case of the San Antonio Four (as advocates now call Vasquez, Rivera, Mayhugh, and Ramirez) one of the child victims, now an adult, recanted last year, saying her father forced her to fabricate the claims of abuse. The girl told Austin-based filmmaker Deborah Esquenazi on camera, "You must understand I was threatened and I was told that if I did tell the truth that I would end up in prison, taken away, and even get my ass beat."
Esquenazi's work-in-progress documentary, tentatively titled San Antonio Four, has become a key piece of the growing effort to exonerate the women. As the Innocence Project of Texas re-investigates the case and prepares to file a post-conviction writ of habeas corpus (there's still no telling when that might be), Esquenazi has shown her footage across the state hoping to boost support for the women. Vasquez, who was paroled in November, got clearance from her parole officer to attend her first San Antonio screening Tuesday night at Pride San Antonio's Q Fest.
Vasquez says her life is still dictated by the conditions of her parole. She had to register as a sex offender once released, and when she travels, she must follow pre-approved routes that avoid child safety zones, including schools, churches, and playgrounds. She can't even talk about child members of her family, and can't write to her niece and nephew, since they're minors. She finally found work recently after months of searching – she asked that Current not print the name of the employer.
"

Being a registered sex offender is very difficult to swallow," she said. "Just that title, it's really difficult."
Now that she's out of prison, Vasquez says she aims to advocate for her co-defendants that are still behind bars. "I feel like I am their voice," she said. "For some miraculous reason, I am out."
Rivera and Mayhugh, who like Vasquez received 15-year sentences, are eligible for parole and are set for release in 2015. Ramirez, who was tried separately and labeled the ringleader by prosecutors, got a 37 and a half year sentence. 
Esquenazi, however, says Rivera and Mayhugh don't want to be paroled. In recent prison interviews, she said, "They've said to me, 'I don't want to be paroled. The restrictions are no different from another prison.'"
"

It's just a really interesting activist decision that they're making," Esquenazi said. "They've told their attorneys, 'Don't parole me. Don't try to parole me. Just exonerate us.'"
*Update April 25, 2012: Innocence Project of Texas attorney Mike Ware tells the Current both Mayhugh and Rivera have recently taken polygraph tests in prison and "both had clear strong passes as to their innocence."