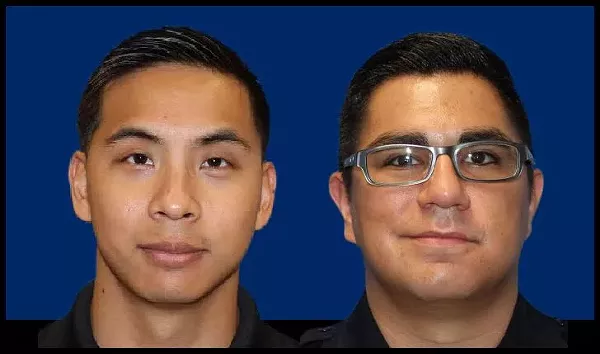 Bexar County, Sarah Flood-Baumann
Former SAPD officers Alejandro Chapa and Emmanuel Galindo.
Performing an erotic dance in a bikini. Taking shots of alcohol before doing jumping jacks. Acting like a devoted girlfriend to a stranger. "Playing house." Having unprotected sex.
These are just a few of the "tests" allegedly given to four different women in 2015, during what they believed were tryouts for a high-paying undercover job with the San Antonio Police Department.
As of Wednesday evening, three of the four women had testified in a Bexar County courtroom, each explaining to a jury how former SAPD officers Alejandro Chapa and Emmanuel Galindo (men they knew as "Mike" and "John") coerced them into having sex with an elaborate, fictional job offer. According to SAPD, at least 25 women had been told the same bogus story. The trial for the two men, charged with compelling prostitution in 2015, began on Tuesday.
According to the three women who testified (and others involved in the scheme), the two then-officers had convinced them they were part of an undercover SAPD team — and were hiring women outside the force to act as officers' girlfriends to help them "blend in" during sting operations. The women could make up to $5,000 dollars a day if they passed a series of tests to get the job, the pair allegedly promised.
In each woman's case, this hefty paycheck, and the promise of legal assistance, was what kept them following the men's commands — even as they each became increasingly uncomfortable with what they were being asked to do.
One women was told the officers would erase a DWI arrest from her record. Another woman needed the money to cover her mother's kidney transplant. Another, who was trying to win the custody of her younger sister from an abusive mom, was promised insider assistance from Child Protective Services. None of them were ever paid.
"My mom was threatening to take my sister away. I'd do anything to keep her," the 26-year-old woman, who testified under a pseudonym, said in court on Wednesday. "This job sounded too good to be true."
That is, until she realized what it entailed.
For her first "test" with Galindo at her apartment, the woman testified she was told to take shots of alcohol every 20 minutes (the cops said it was to evaluate how quickly she'd get drunk) and dance to music in front of Galindo to test her "comfort levels." She claims Galindo then said she needed to be tested on "sexual acts." According to the woman, Galindo said the more extreme she got, the more likely she'd land the job.
"He told me, 'If you want to get paid the most money over the shortest amount of time, you should have sex,'" the woman said in court. She thought of her sister. She followed his advice.
Defense attorney Leigh Cutter tried to paint the scenario as a standard date night to the jury — and she even pushed the woman to admit she had knowingly prostituted herself.
"No," the victim responded shakily. "I was told it would give me a higher score, which would help me get custody of [my sister] faster."
Prosecutors say that at another meeting in a room at the downtown Vistana apartment complex, the woman was told to perform oral sex on Galindo, and then kiss Chapa. "Did you brush your teeth between the two?" Cutter, the defense attorney, asked, raising her eyebrows.
Another woman who testified yesterday said she had tried to commit suicide after discovering Galindo had allegedly raped her when she was passed out from drinking.
Cutter meanwhile suggested this was just prostitution. "I don't sell my body," the woman replied,
according to the Express-News.
If Galindo and Chapa are charged for their crimes, they could face 20 years behind bars. The trial continues Thursday.