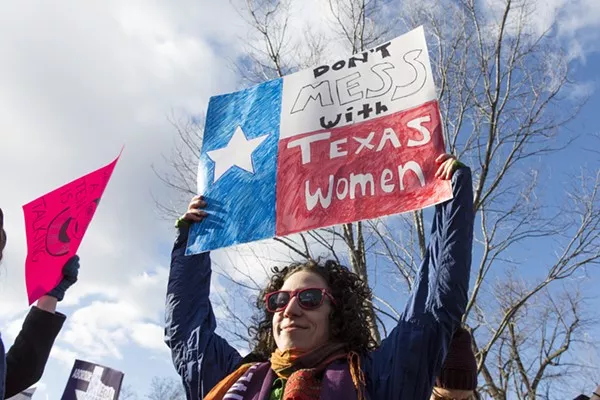 Texas' top women's health care providers are suing the state over it's brand-new ban on the safest abortion procedure available to women in their second trimester of pregnancy.
"Enforcement of the ban would threaten women's bodily autonomy, health, and access to abortion in Texas, leaving physicians with no reasonable alternatives by which to continue providing this abortion care,"
reads the complaint
, filed Thursday by the Center for Reproductive Rights on behalf of Whole Women's Health, Planned Parenthood, and a handful of other Texas women's health clinics.
The lawsuit specifically targets Senate Bill 8,
a sweeping anti-abortion bill
signed into law on June 6, that prohibits an abortion procedure called "dilation and evacuation" (or D&E), the safest and most common form of an abortion after 12 weeks gestation. The only medical alternatives to D&E are making the pregnant woman go through labor and deliver the fetus or going under the knife for a procedure similar to a hysterectomy — both are procedures that abortion doctors say are incredibly risky and expensive.
What's riskier, however, are the illegal alternatives women seek out when laws block them from getting a safe abortion by a licensed doctor.
A 2015 study
by University of Texas' Texas Policy Evaluation Project estimated that at least 100,000 Texas women have tried to induce their own abortion. The study found that some women buy abortion drugs over the counter in Mexico, others try herbs or homeopathic remedies, others drink copious amounts of alcohol in hopes of miscarrying and others just ask their friends to punch them in the abdomen.
"Even if limited access remains available," the filing reads, "the ban forces women seeking second trimester abortions to undergo more complex and risky procedures, including compelling them to undergo painful, untested, and invasive medical procedures, in order to access their constitutional right to abortion."
Anti-abortion advocates often argue that D&E procedures "dismember" a fetus, meaning it's immoral or inhumane. They're known to use graphic, inaccurate posters of bloody, full-term babies and illustrations that falsely depict the D&E procedure to influence lawmakers. Few arguments involve the health of the mother — one of the main reasons women are forced to get an emergency second-trimester abortion (since doctors can't test pregnant women for serious fetal anomalies until around 20 weeks). The American Congress of Obstetricians and Gynecologists, which represents the country's top experts in reproductive health, strongly opposed the D&E ban.
In the filing, Center for Reproductive Rights attorneys argue that low-income Texans often have no choice but to get a D&E abortion.
"Women seek abortion during the second trimester for the same reason they seek earlier procedures," the complaint reads. But for many women, it takes time to raise the $550 to $1,500 for an in-state abortion, forcing them into the second-trimester. And that's not the only cost.
"Many abortion patients are low income, and struggle to make arrangements for, and absorb the cost of, missed work, childcare if they have children...transportation to and from the clinic, and needed hotel rooms," the complaint reads.
Women's health advocates say this ban is just another way for lawmakers to regulate a legal procedure, abortion, out of existence — just like Texas lawmakers tried with the 2013 House Bill 2. That bill placed specific, strict building regulations on abortion clinics and doctors across the state, ultimately forcing 21 of Texas' 40 abortion providers to close. Whole Women's Health's 2014 lawsuit against the bill's constitutionality landed in the Supreme Court in 2016 — and won. Amy Hagstrom Miller, WWH founder and CEO, said she's ready to do it again.
"SB8 is evidence of the zealots' crusade to make full equality out of reach for Texan women, and we will not stand for it," she wrote in a Thursday press release. "Access to safe abortion care is a human rights issue; reproductive freedom for women is about equality, self-determination and autonomy. We cannot let our opposition try to say it is otherwise or pretend that they have our best interests in mind."
Both the state and the women's health plaintiffs in the case expected SB8 would spark a lawsuit. Like with HB2, the case is expected to land in the U.S. Supreme Court — but the predicted outcomes are a little more blurry. Rumors of progressive Supreme Court Justices retiring means President Donald Trump could turn the court conservative before SB8 reaches D.C.
Unless the court approves an injunction, SB8 is set to become law on September 1.