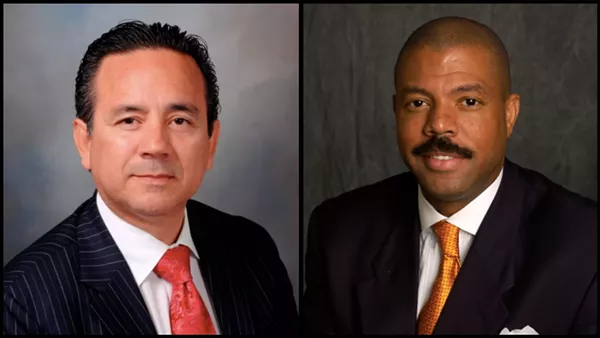 Texas Senate
Carlos Uresti and Borris Miles
Annie's List, a political group focused on electing female Democrats to office in Texas, has called for the resignation of Democrat senators Carlos Uresti and Borris Miles in the wake of multiple sexual harassment allegations made against them.
"Lawmakers are supposed create laws that protect us. Not break them and harm others," said Annie's List Director Patsy Woods Martin in a media release.
The allegations, made public Wednesday night
in a Daily Beast investigation
, claim Uresti and Miles repeatedly harassed female staffers and reporters working at the Texas Capitol. In interviews, the women described both men forcibly kissing them and making overtly suggestive sexual comments. For Uresti, some of these allegations
go as far back as the early 2000s
.
"As we know all too well, men like Borris Miles and Carlos Uresti have been inserting themselves upon others without their permission for millenniums," Martin said. "What is new is that now we're calling it out, taking these instances out of the shadows of shame and doubt that perpetrators, and their enablers, have foisted upon women."
In his response to the allegations, Uresti told the
Current
(and other publications) that "sexual harassment has no place in the Capitol or any workplace."
Martin referenced this quote, and then added: "Neither do the people who commit sexual harassment."
"There is a shift taking place," she went on. "By using our collective voices, we are yanking off the soiled sheets of hush and cover up. Enough is enough. It is time to step down, Mr. Miles and Mr. Uresti."