Finally!
Wonder Woman
is the movie the suits at Warner Bros. have been yearning for, and at long last have figured out how to get. After the gloomy, hyper-stylized and unfulfilling DC Comics misadventures
Man Of Steel
,
Batman v. Superman
and
Suicide Squad
,
Wonder Woman
feels like a breath of fresh air, and not a moment too soon.
Director Patty Jenkins' (
Monster
) film is bright, vibrant and engaging. It's an origin story. Born to a tribe of female warriors on a remote island hidden from mankind, Diana's (Gal Gadot) aunt (Robin Wright) teaches her how to fight while Diana's mother (Connie Nielsen), a queen, worries for her safety. Before Diana realizes the extent of her powers and becomes Wonder Woman, an American officer named Steve Trevor (Chris Pine) crashes near the island and Diana rescues him — the first of many times she (the female) saves his (the male's) life. This twist on traditional gender roles in action movies could not be more welcome.
We learn it's 1919, and Steve is embroiled in a battle to defeat Germany. Specifically, he fears General Erich Luderdorff (Danny Huston) and his chief chemist, Dr. Maru (Elena Anaya), will concoct a poisonous gas that could wipe out an army miles at a time. Understanding the danger, and because she's truly kind as long as you're not threatening her, Diana joins Steve in trying to stop the Germans. They don't need much help, but they get it in the form of Steve's friends Charlie (Ewen Bremner), Sameer (Said Taghmaoui) and Chief (Eugene Brave Rock), as well as government official Sir Patrick (David Thewlis).
The action is fantastic, and really pops in IMAX 3D. Whereas action in the other DC Comics movies has essentially been a big, loud blur, here it's carefully rendered for clarity and impact. There's not one second of battle in which the events aren't perfectly clear (there's no over-editing here at all), and at times slow motion is used to make it even more dynamic. The visual effects are strong, and the fight choreography and cinematography are tremendous. If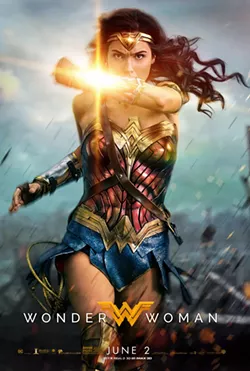 only all action movies were this attentive to their main selling point. Chris Pine seems to have no qualms about the male lead being a secondary role, and given that he's our new Captain Kirk in
Star Trek
, kudos to him for allowing Gal Gadot to step front and center. And boy does she. Reports say Gadot, who was Miss Israel in 2004 and subsequently spent two years in the Israeli Army, gained 17 pounds of muscle to play Diana. It's doubtful she was weak beforehand, but with the added muscle her stature is more imposing and she shows no signs of struggling with the physicality of the role. Nor does she have a problem with Diana's beauty. While Gadot's acting talent has yet to be proven in a non-action role, the camera loves her and her pulchritude is undeniable. If she makes the right choices, she could be a fixture on the big screen for years to come.
Let's be honest: Warner Bros. needs this. At a time when the studio is desperately trying to get franchises off the ground and struggling mightily with all of them (
Godzilla
and
King Kong
will soon merge, and
King Arthur
landed with a thud a few weeks ago),
Wonder Woman
could be a saving grace. Let's hope the box office yields a positive response to this fantastic story of female empowerment, and future DC Comics movies follow this film's formula for success.