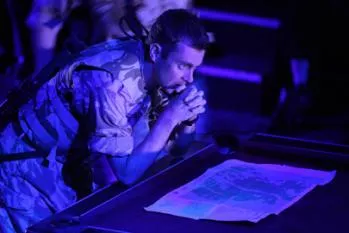 OK, I know this isn't the Austin "Current," but, honestly, if you've any interest at all in some of the best theater seen in America in the last five years, head up to the capitol this week to catch the rare touring production of BLACK WATCH, Gregory Burke's astonishing chronicle of the Scottish Guard's involvement in the Iraq war. Part mime, part dance, part play, and entirely gripping, BLACK WATCH defies a lot of categories--but it's also one of the most beautiful pieces of theater I've ever witnessed, period. I managed to nab a ticket on the production's second go-around in Brooklyn--it was basically sold-out from the get-go--and I'm heading up the freeway this weekend as well.
It's too bad that BLACK WATCH isn't playing in San Antonio, which, with its heavy military population, would seem a more natural fit for the production than Austin: this is a missed opportunity. But Austin's not that far, and you won't find a production of this caliber and power very often. Think about it. It plays through the weekend at the Bass Concert Hall downtown. More info here:
http://texasperformingarts.org/season/blackwatch
--Thomas "I Love the Scots" Jenkins, Current theater critic.