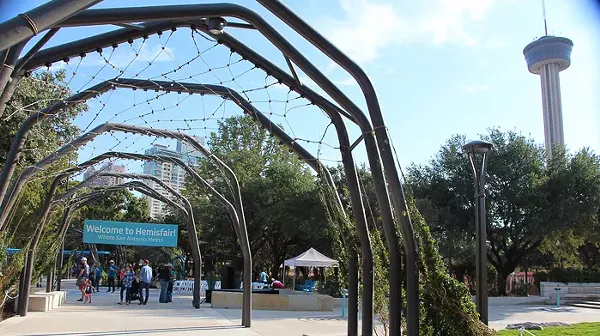 Gabriela Mata | San Antonio Current
San Antonio's new Yanaguana Garden is building on its success and warm reception by getting into one of this city's most cherished past-times: a festival.
Hemisfair announced Friday that a new celebration of food, culture and Texas fun called the Mockingbird Fest will highlight "the sounds, flavors and traditions of the Lone Star State" on March 5.
The festival shares its name with Texas' state bird: the northern mockingbird, and will bring bards, chefs, brewers and cultural institutions together in Yanaguana Garden.
There will be musical performances, including sets from Ranch House and Eva Ybarra. Fill you belly while enjoying the tunes by visiting a dozen food vendors, including future Hemisfair restaurant Con Safos, which will have Pan Dulce Burgers galore. Palateria San Antonio will be on hand, as well. And look for brews from Ranger Creek Brewing and Distilling, along with Goliad, Independence and Pedernales Brewing.
The Briscoe Western Art Museum, the Witte and the Institute of Texan Cultures will be on-hand with activities for the kids that reflect the Lone Star State's history and cultural traditions. SeaWorld will also be on-site with live native species, including a screech owl and alligator. Local author Jennifer Mendiola will read from her children's book
I Only Just Love You A Lot
.
The festival runs from 10 a.m. to 6 p.m. March 5 and is free and open to the public.