On June 7, as temperatures dawdle up to the high 80s and urban creatives make their way to the rescheduled
Pecha Kucha Vol. 22
at Yanaguana Garden at Hemisfair (434 S. Alamo St.),
Paleteria San Antonio
will make its official debut as the park's first tenant.
Opened by husband-and-wife team Joey and Cecy Rodriguez, Paleteria San Antonio will host a kick-off from 5 to 6:30 p.m. with free paletas, but the tiny shop inside the historic Pereida House has been open for at least three weeks.
Though the shops were announced in late 2015, build out on the historic homes has been predictably slow. You can't just take a home built in 1883 and toss a kitchen in there. More tenants, including the Danny Delgado-owned Con Safos, and a brewpub, OK Eishaus, will also open inside postbellum homes.
In its soft opening phase, the Rodriguezes along with their precocious 2-year-old daughter, have been able to glean early reactions to their simple, but delicious product, the recipes for which aren't actually written down anywhere. Early crowds have consisted of Magik Theatre summer campers, neighborhood regulars and those looking for sweet treats.
"We have a big crowd on weekends," Cecy said. "Those are my favorite days."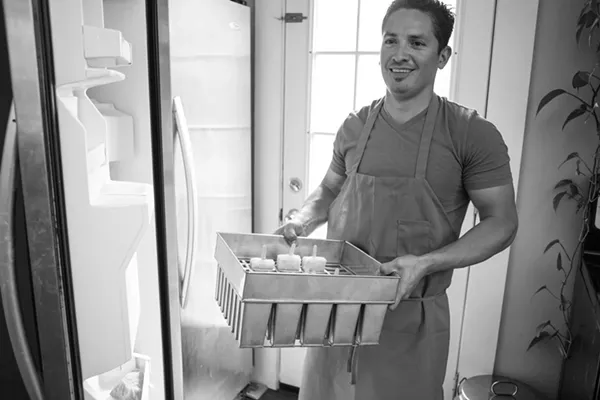 Brian Caron
Joey Rodriguez
As of right now, PSA has 54 varieties of paletas and carry more than a dozen each day. Joey, 28, who learned the paleta craft from his father at La Gran Michoacana, usually whips up new batches of whatever's needed three or four times a week at an off-site commercial kitchen in the city's South Side. His day starts early in the mornings with trips to H-E-B to hand-pick the produce and he'll make it into the shop at 10 a.m. From there, a 13-hour day ensues with Joey chopping and blending all the fruits, pouring them into molds, placing wooden popsicle sticks in each and packaging every single paleta by hand.
The popsicles hover at the $3 range and include popular flavors such as Lucas and watermelon, mango, avocado, pistachio and Oreo.
The young couple's passion and their tasty product was part of what earned them a spot in the redeveloped site. As Drew Hicks, communications manager for Hemisfair put it, the paletas won the staff over.
"Joey walked in, said here's how to get in touch with me, here's some paletas ... meanwhile [their daughter] is running around the office. Five minutes later, he's gone and we just looked at each other like 'I guess we got free paletas,'" Hicks said.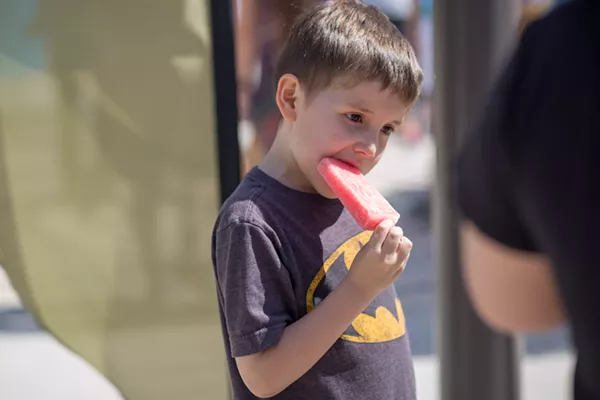 Brian Caron
Cool for the summer ...