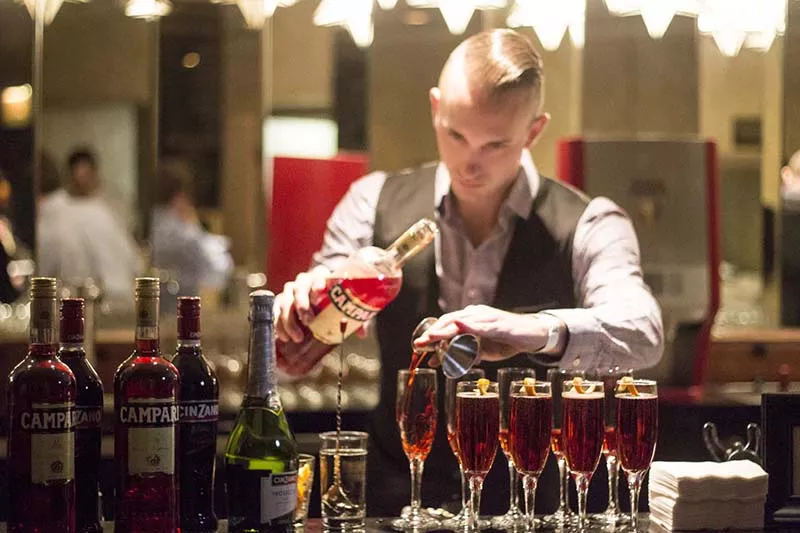 File Photo
'Tenders, 'tails and tasty chef-created bites will fill the Majestic come Thursday
The eyes of Texas are about to descend on San Antonio's coupes, flutes and tumblers as the city kicks off the fourth annual San Antonio Cocktail Conference. I'll be frank—I'm never quite ready for what the conference brings.
Unfamiliar with what exactly goes down? Here's a brief synopsis of what the SACC is, what transpires and why it matters. The almost-week-long event began in January 2012 as a way to bring attention to the city's Downtown and its burgeoning cocktail scene with seminars and parties that highlighted great 'tails and spirits. And you can thank chef Mark Bohanan, NYC's Sasha Petraske (who trained the staff at Bohanan's then-relatively new downstairs bar) and his management staff (Scott Becker, Jenny Rabb, Carlos Faz) for the success of the first year. The festivities included a packed Thursday opening night soiree at Bohanan's; daytime classes at the Sheraton Gunter Hotel on Friday and Saturday; a Friday night party with stops at SoHo and Ocho at Hotel Havana aboard Rio San Antonio Cruise barges (where cocktails were also served) and a Saturday night closing celebration at The Esquire Tavern.
That was then. The SACC, which technically operates as part of Houston Street Charities, a nonprofit that donates 100 percent of the event proceeds to children's charities (Children's Shelter and Transplants for Children will be new recipients this year in addition to ChildSafe and HeartGift San Antonio), has ballooned much like the cocktail culture in San Antonio (though it's difficult to say which spurred the other). This year's conference lineup is still being tinkered with to include more participating bars, brands and the imbibers who want to soak it all in. Changes to the conference started with the appointment of Cathy Siegel, who formally joined Houston Street Charities, as executive director.
For Rabb, who technically serves as catering manager for Bohanan's when she's not helping coordinate the conference, the addition of Siegel was instrumental.
"It's been amazing to have someone here right next to me, 365 days a year working on this ... It's been a huge help," Rabb said over the phone with the Current. With Siegel as added (wo)manpower, the conference looks to expand and tweak to guarantee a good experience for all.
Because the conference outgrew Bohanan's Courtyard almost immediately, the opening night festivities shifted to the Majestic Theatre in its second year. Now the third opening night affair held at the picturesque Majestic will feature a different floor plan.
"This year we're putting a stage over the seats [inside the theatre] and opening up more space," Rabb said. That means a better flow on the first floor and access to the second and adjoining Starlight patio, which overlooks a twinkly Houston Street. For opening night ($100, 7-11pm) party-goers, who should don their finest cocktail attire, can expect 28 spirit stations and 16 food stations with noshes by the Art Institute; Guerilla Gourmet; Mixtli; The Granary 'Cue & Brew; The Friendly Spot; Inspired Occasions; Restaurant Gwendolyn; The Cookhouse; Folc; The Monterey; and Austin's La Condesa.
The beefed up food offerings, curated by chefs Elise Broz of Biga on the Banks and fiancé John Russ of Lüke San Antonio, will carry on into the next two parties—including a throwback to The St. Anthony's early days with Friday's Waldorf on the Prairie event ($85, 7-11pm) that will flow throughout the Anacacho Room, Peacock Alley and Georgian Room. Earlier versions of the Friday night event included the use of both river barges and double-decker buses, but Rabb's quick to point out the SACC isn't in the "transportation business."
File Photo
Keep your energy up for SACC's 86 Co. After-Party
The consolidated venue will hold 24 bars and another 16 food stations (Biga on the Banks; The St. Anthony Hotel; Navy chefs; Feast; Citrus; El Machito; Austin's Noble Pig; Tre Trattoria; Max's Wine Dive; Tuk Tuk Taproom; Lick; Sol y Luna Baking Company; Barbaro; and Whiskey Cake), and live music, including soul via The Night Owls, classic jazz from The Doc Watkins Trio and a Latin DJ.
Minimal, but significant changes are lined up for Saturday's big blow out, the Stroll on Houston Street ($85, 6-10pm) bookended by Bohanan's and Lüke San Antonio. The IBC Plaza will open its expansive patio to include more food stations (17 throughout the stretch of Houston including Tiny Pies; SA Pops; Hot Joy; Sway; The Boiler House; Two Bros. BBQ Market; Knife and Fork Gastropub; Tycoon Flats; The Cove; The Original Hot Dog House; and Acenar) and half a dozen craft beer offerings.
You'll want to keep your spirits and energy high if you're to make it to the Rock & Rum Revival After-Party ($75, 11pm-2am) sponsored by 86 Co., which takes over the Charline McCombs Empire Theatre with Texas bars such as Austin's Half Step, Houston's Moving Sidewalk, Dallas' Parliament, Abilene's Public-Haus and San Anto's own The Last Word. In case anyone is still hungry, El Mirador will keep stomachs happy with fresh breakfast tacos, because San Antonio.
If you've got any juice left in you by Sunday, the Original Cocktail Competition ($40, 4-9pm) will pit eight finalists against each other at the Aztec Theatre, leading into the conference's closing party.
But the four days don't stop at imbibing and partying—bar enthusiasts can look forward to plentiful seminars, 35 to be exact, from new techniques for bartenders to continued studies into specific spirits (for a list of seminars, see page 48). We talked to a few presenters on what we need to learn about Champagne, mezcal and white whiskey.
If you're hoping to better acquaint yourself with mezcal, then "Scotland vs Mexico: Parte Dos" ($45, 1:30pm Friday, The Last Word) will be worth checking out. Milagro rep, Juan Pablo De Loera and David Allardice, Glenfiddich brand ambassador, hope to expel some myths about tequila and other agave distillates during this presentation that points out similarities in aromas and production for both spirits.
"We'll taste some of Milagro's aged expressions with rare casks out of Glenfidddich, and add mezcal to the mix," Loera said of the Oaxacan espadin mezcal made by Montelobos, which he hopes will bridge the other two spirits. "I want to show people how approachable tequila really is."
Continue the agave crash course with "Mezcal" ($45, 1pm Saturday, Bohanan's). The presentation will celebrate master mezcaleros Aquilino Garcia Lopez of Oaxaca's Mezcal Vago and Emilio Vieyra of Michoacan's Siembra Metl.
"They're from different states, use different agave varietals and there are significant differences in what they do," Virtuoso Selections' John Garrett said of the presenters. "Most mezcales worthy of their weight will have the mezcaleros name printed on the label ... We want them to tell their story so people can ask for their spirits by name." The presentation will include a chat with the producers who will share how they're hoping to preserve their specific distilling style across generations.
Then, because we should all aim to drink responsibly during these next few days, Lynnette Marrero (cocktail consultant at DrinksAt6 and the mind behind Speed Rack) will join Meaghan Dorman (with Ladies United for the Preservation of Endangered Cocktails' NYC Chapter and Raine's Lawroom) for a "Shake it up with Champagne" ($45, 1pm Saturday, Sheraton Gunter).
"The seminar's for anyone interested in Champagne cocktails, either when making menus or working with Champagne at home. We'll be addressing different styles ... it's not one size fits all and you really have to educate yourself about wine, and how it will work in cocktails," Dorman said of the class, which will use Nicolas Feuillate's range of bubblies.
Finally, SA's own Ranger Creek Brewing & Distilling will preach on the virtues of their .36 white whiskey available in 750 milliliter bottles during "White Whiskey: The flavorful alternative to vodka" ($35, 1pm Saturday, St. Anthony). As owner Mark McDavid puts it, the white whiskey is the distillery's first cocktail-friendly whiskey.
"There's a moonshine craze going on right now ... this is a premium version of moonshine, you can sit and sip this and enjoy the flavor of this," McDavid said of the spirit he's using in Texas Mules and bloody marys. "There's no reason this shouldn't be used in cocktails as a flavorful alternative."
Hydration is your friend this weekend, San Antonio. We're in for the best hangover yet.