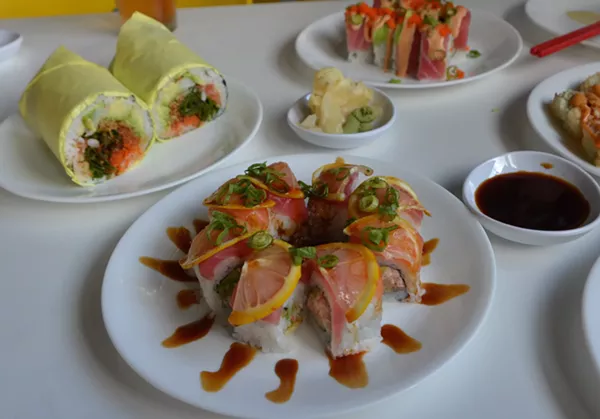 Jessica Elizarraras
The Tocino Roll from Yellowfish Sushi
Yellowfish Sushi, which began as a single location off Wurzbach in early 2013 inside a former car inspection shop. Fast-forward to 2017, and sushi fans in San Antonio have helped owners Brenda and Alex Sarmiento establish two more locations.
The third opened this Monday at The Rim with an almost identical menu to its sister locations. Yellowfish 3.0 is sleek like its predecessors, and features cute sushi graphics along the walls and two flat screens for sports, but don't get too distracted you're here for the food.
The "Japarritos" or sushirritos are there, along with a slew of rolls, poké bowls and starters. And they don't mind substitutions. The fried Urbano Roll was recommended by our server as one of their top-selling rolls and it's easy to see why as tempura shrimp, avocado join crab salad and Yellowfish' Juma and Anguila Sauces — we nixed the cream cheese and still left perfectly happy.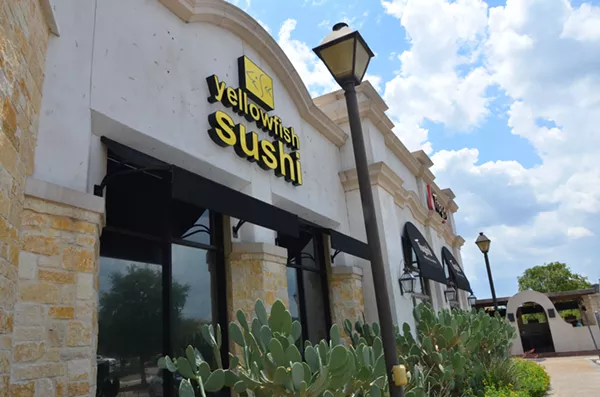 Jessica Elizarraras
Next to Tiago's Cabo Grill
A Tocino Roll is exclusive to the Rim, and it's worth ordering. The presentation is as extra as the roll itself that combines avocado, krab salad and tempura bacon (yes, bacon) on the inside, with salmon and tuna and thinly sliced lemons draped over the roll. It's playful, zesty and bright.
Yellowfish at The Rim is open 11:30 a.m. to 10 p.m. Monday through Thursday; 11:30 a.m. to 11 p.m. Friday; 12:30 to 11 p.m. Saturday; and 12:30 to 9 p.m. Sunday.
17711 I-10 W., Suite 104, (210) 476-5186.