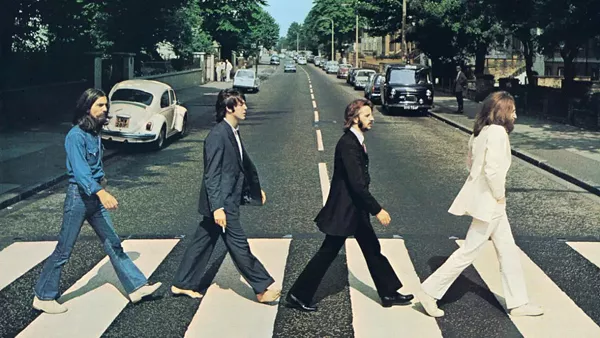 via biography.com
The cover of Abbey Road, said to depict a funeral procession
Following up their momentous
handling
of Radiohead's
OK Computer
, the Youth Orchestra of San Antonio once again aims about as high as you can go with The Beatles '69 masterpiece,
Abbey Road
.
The concert series conjoins the common four to five-piece rock group with a full orchestra of local youths, combining the hard-edged capabilities of one with the grandiosity of the other. Much of the art lies in the selection of albums, which will be played in their entirety from beginning to end. Taking on not only one of Radiohead's best albums, but
Abbey Road
, arguably two of the top 10 best pop albums of all time (if you ask the corporate kindling that passes as modern rock mags–essentially the journalism equivalent of establishment-fave Hillary Clinton), is no small feat, but if the
OK Computer
show was any indication, the local talent is up to the task.
"Abbey Road Live" will pair YOSA's 75-piece orchestra with the likes of Buttercup, Deer Vibes, The Please Help, fishermen, We Leave at Midnight, Sugar Skulls, Ready Revolution, Sioux & Fox, December's End, the Marcsmen, Femina-X and Octahedron for performances from the iconic Beatles album. Expect puro performances of timeless songs from the last album recorded by the Fab Four, including "Come Together," "Here Comes the Sun," "Octopus's Garden" and "The End."
The concert is slated for March 14 in the H-E-B Performance Hall at the Tobin Center for the Performance Arts at 8 p.m. and tickets are on sale
here
. For an additional $20 you can party with the performers, sponsors and other fans at the after party.