Photo credit: Josh Huskin
All smiles for Troy Peters, named among Musical America's Top Musical Professionals in 2016.
For those of us who make it our business to know what's good in San Antonio music, Troy Peters—composer, music advocate, and director of
Youth Orchestras of San Antonio
(YOSA)—has been a beacon of inspiration for years now. Aside from his gifts as a conductor and composer, he has the patient, endlessly uplifting manner of the best teachers, and an edifying/gratifying penchant for bridging the gap between the classical music world and the local music scene (see especially YOSA's highly-lauded, collaborative shows
OK Computer Live
and
Abbey Road Live
).
It seems we aren't the only ones to note Peters' consistent arete and efficacy in his work, however, as
Musical America Worldwide
just named him among its
Top 30 Musical Professionals of the Year
, a distinction awarded to individuals who "have generated new ideas, launched or notably advanced a business, programmed a new series, or all of the above." Above all, those who receive the honor are notable as folks who "not only innovate" but also "inspire us."
We are certainly proud of Peters, who took the helm at YOSA back in 2009, and can't wait to see where he'll go from here (figuratively speaking, of course, because he better be staying right here in SA). For starters, it isn't too early to get excited about the next installment of the YOSA Classic Albums Live series:
YOSA Presents Purple Rain Live
, which goes down March 13.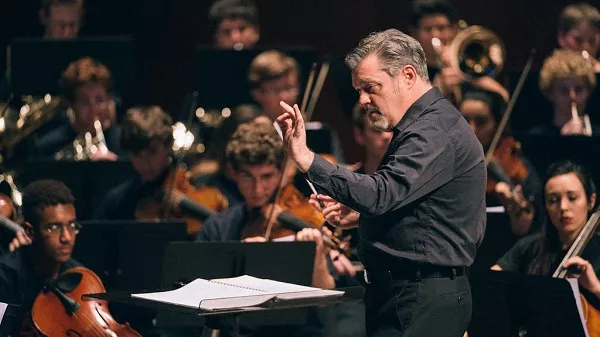 Courtesy of TPR and Do210
Peters in action during "YOSA Presents Abbey Road Live."
We reached out to Peters for a statement on the recent honor and, responding via email, he had this to say:
"I'm incredibly honored to receive the accolade, mainly because the *other* people on the list are so amazing. It's great company to be in!
At the most fundamental level, what I've been trying to do over the past few years is to build stronger ties between the rich legacy of classical performing arts and the vibrant energy of San Antonio's local artistic scene. I hope this kind of national attention shines a light on how much other cool stuff is happening here."