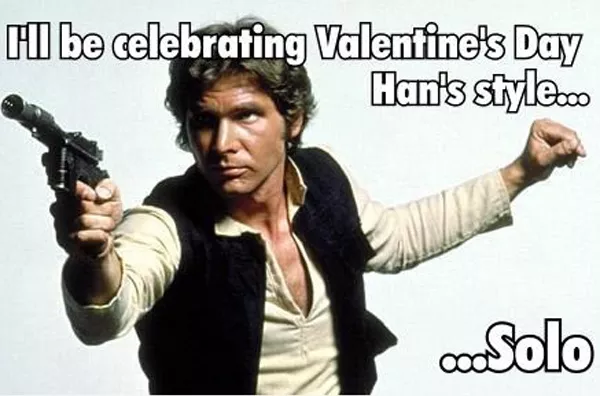 Valentine's Day. Your feed is probably crowded with cheese-tastic engagement ring ads (or is that just me?), but you've no plans for the made-up holiday? Worry not, plenty of SA bars are there for you to drown your sorrows or celebrate your freedom in.
Happy Hour Champagne Flight:
Maybe you didn't get tickets to the big show at Jazz, TX? Get in earlier and sip on a Moët & Chandon flight while the Doc Watkins Trio serenades you and your bubbles partner.
$25 per person, 5-7pm, 312 Pearl Pkwy., Building 6, (210) 332-9386.
Catch Flights, Not Feelings:
Paramour knows you should not to text and Drake on this silliest of holidays. But you should treat yourself to a flight of chocolates as paired with delicious cocktails. Try chocolate-covered cherried with The Sands cocktail, dark chocolate-covered caramels with the barrel-aged Old Fashion or white chocolate and mixed nuts with a Carajillo.
Prices vary, 6:30pm-2am, 102 9th St., Suite 400, (210) 307-8740.
Mezcalentine's Day:
You know what'll never let you down? Mezcal. Check out the latest offerings from Rey Campero and Real Minero as paired with chocolates made by chef Emiliano Marentes and his staff at Hoppy Monk.
$25 per person, 7-10pm, 1010 N. Loop 1604 E., (210) 545-3330.
Valentiki:
Enjoy the surf/rockabilly sounds of King Pelican, paired with tiki concoctions from The Brooklynite and pizza. Boos not required.
Prices vary, 8pm, 516 Brooklyn Ave., (210) 444-0707.
Bubbles & Troubles:
Some of the best love stories are straight out of literature. Visit with The Last Word for cocktails and paired desserts (we're there for the homemade baklava.
Prices vary, 8pm-2am, 229 E. Houston St., (210) 314-1285.
Cupid Is Stupid:
Raise funds for The American Heart Association by bidding on some of SA's most eligible bachelors and bachelorettes at Jandro's Garden Patio.
No cover, 8pm-2am, 2623 N. St. Mary's St., (210) 736-0688.


Throbbing Heart-On:
Let Rumble soothe your romantic woes with a pun-tastic drink menu that includes a Love Potion #8, Exes and Ohs, All the Single Ladies, All the Cat Ladies, Daiq Pics and a bubble gum vodka shot.
Prices vary, 9pm-2am, 2410 N. St. Mary's St., (210) 365-3246.


XXX-Rated Valentine's:
Chocolate fountain, strawberries, foxy bartenders, a sexy barback, X-rated cocktails, layered Jell-O shots ... what more do you need? Go have yourself a time at Stay Golden Social House, with or without a ball and chain.
Prices vary, 10pm, 402 Pearl Pkwy.