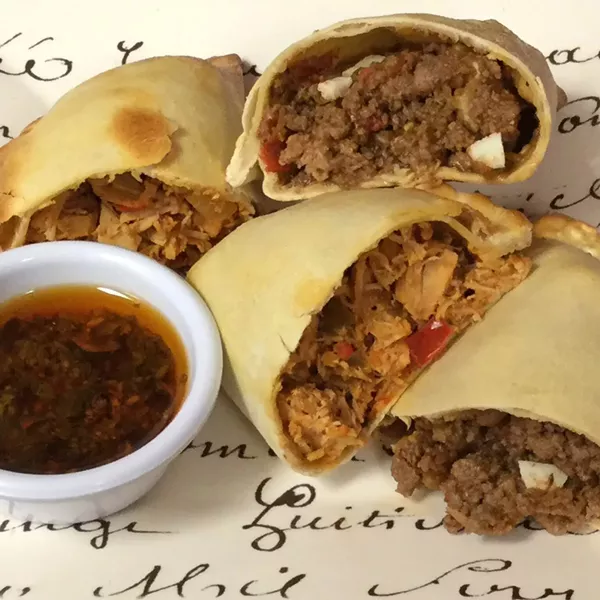 Courtesy of Fat Tummy Empanadas
I have long accepted that nostalgia plays a large part in determining how good something you eat actually is. A flavor, a taste, a smell, something will trigger a long-lost memory and trigger an almost immediate gastronomic response in you.
That is exactly what happened to me when I grabbed some grub at
Fat Tummy Empanadas
recently. This no-frills food truck (which thankfully posts every day on their Facebook account where they will be) delivers Argentine-style empanadas and sandwiches. The flavors are both exotic and familiar – that is, familiar if you have spent enough time here in San Anto aka the cradle of Tex-Mex culture.
At Fat Tummy, the empanadas are flat-out amazing.
"We are both from Argentina and [the food truck] is a way of making Argentinean culinary tradition known here," said Norah Saleh, who with her husband Gustavo Plache are owners of Fat Tummy.
"We chose empanadas because it's a traditional Argentinean dish. We have the challenge of making people in San Antonio know what an empanada is and how good they can be."
Courtesy of Fat Tummy Empanadas
So, let's talk empanadas. The ham and cheese empanadas – you know how when you buy those microwave "things" that rhyme with Schmot Schmockets? You know how when you look at the package and imagine how good those things are going to taste until you actually eat them? Well, the ham and cheese empanada at Fat Tummy are what you envisioned in your mind's eye turned up to freakin' 11. The dough is crispy and flavorful, the ham and cheese all blend together in a cornucopia of warm, gooey, goodness.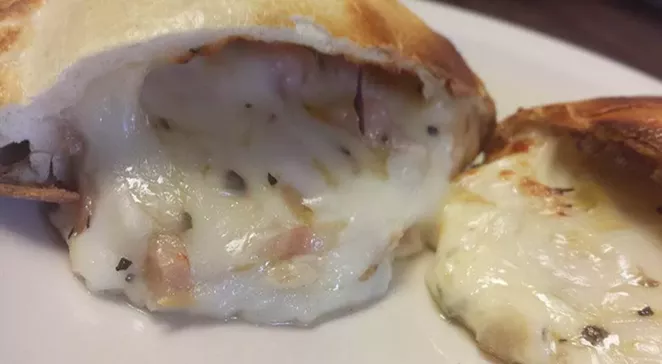 Courtesy of Fat Tummy Empanadas
Also on the menu, the chicken, cheese, and spinach. I've never been a huge fan of cooked spinach; I often find the flavor to be overpowering. But not in these empanadas. The spinach, chicken, cheese blend all worked wonderfully, there was a balance between the mix and the dough that could only be achieved by someone who has a true passion for their work.
I also had these with their chimichurri sauce (they offer a mild and a spicy) and that extra bit of heat added nicely to the savoryness of the mix. I was also fortunate enough to try their beef and potato empanadas. It was during the first few bites of these that I got that trigger of nostalgia I mentioned earlier. The familiarity of the dish (albeit with a slightly different flavor palate) brought me back to my childhood and the beef and potato empanadas my grandma used to make. They were delicious, and eating them brought me a little bit of happiness. What more could you ask of your food?
There is also a spicy chicken, a corn and cheese and sweet varieties to be on the lookout for. Fat Tummy also does sandwiches, which I will be back for soon: a milanesa and a choripan – imagine a sausage and French toast sandwich. Follow them on Facebook to get all the latest updates on where they will be parked. You won't be disappointed.