Best Evening News
Best Sportscaster - Greg Simmons
KSAT 12
ksat.com
KSAT can't match the flash of KENS 5's "Eyewitness Newsreel" or the attention-getting international reporting of WOAI. But our readers value the station for its solid, unprepossessing presentation and its experienced on-air team. Steve Browne displays meteorological authority during his weather reports, Greg Simmons is an affable source of sports expertise (best demonstrated on Sunday night's Instant Replay), and Ursula Pari brings a welcome versatility to the anchor position.
Simmons is a San Antonio native who never dreamed of being anything else but a sportscaster. He's turned down opportunities to move to ESPN, CNNSI and larger markets like Dallas because he's already got his dream job covering the Spurs, local high-school football and the Dallas Cowboys. He also runs a golf tournament that raised $22,000 last year to help feed San Antonio's homeless.
Regarding the Spurs' dramatic comeback vs. New Orleans for the division title, Simmons says "games like `this` recharge not only the fans but the team as well, and going into the postseason with a four-game win streak and home-court advantage can't hurt. And the fact it's the 1-35 rivalry `in the first round` just makes it better."
The busy station airs live news, weather and sports broadcasts five times a day at 5 a.m., noon and 5, 6 and 10 p.m. Another feature of the KSAT evening news is the Defenders segment, featuring Rosenda Rios and Brian Mylar, which seeks to stand up for the man on the street by investigating local issues of concern. The station solicits viewer suggestions on their website. The KSAT news team is active on Twitter too, with 16 different feeds to the microblogging service, so news junkies can get their fix all day long.
Best Radio Talk-Show Host
John Lisle & Steve Hahn
KISS 99.5 FM
kissrocks.com
Kings of mundane banter and proud role models for middle-aged crazies, John Lisle and Steve Hahn (with considerable help from sidekick Kelley Kendall) are the deans of SA morning talk. No concept is too thin for them to stretch and no gimmick too questionable for them to attempt. Whether opining on gross eating habits, dating, or Spurs basketball, or licking nacho cheese off the stomachs of fitness models, they're indestructible ratings magnets for people who consider Howard Stern too artsy.
2. Joe "Pags" Pagliarulo,
WOAI 1200 AM, radio.woai.com
3. Peter Burns, Ticket 760 AM,
ticketsports.com
Best Radio Station, News
NPR/KSTX/TPR
89.1 FM
tpr.org
While it's true that San Antonio was one of the last big cities in the country to jump onboard the National Public Radio ship, NPR has become such an institution in this area that it now claims three stations. Texas Public Radio is a coalition that owns KPAC 88.3, KSTX 89.1 FM, and Hill Country mainstay KTXI 90.1 FM. KSTX is Texas Public Radio's round-the-clock news station, and they not only deliver trademark NPR shows such as "Fresh Air" and "All Things Considered," they produce thoughtful local programming such as "Texas Matters." For SA listeners, it's obvious that TPR matters, in a major way.
2. WOAI, 1200 AM, radio.woai.com
3. KTSA, 550 AM, ktsa.com
Best Radio Station, Music
KSYM 90.1 FM
accd.edu/sac/ksym/index.htm
Broadcasting "evolutionary radio" from San Antonio College, KYSM is easily the most diverse station in town. Their staff of mostly volunteer DJs plays everything from country, blues, and jazz to alt-rock, hip-hop, and metal, as a sampling of the frequency's regular shows attests: "Best of the Beatles" on Sunday mornings, "Hillbilly Hit Parade," and "Punk Rock 101." "Third Coast Music" features Americana tunes from South Texas and Louisiana from 3-7 p.m. every weekday. With such a diverse play list, you never know when you might discover a new favorite band. Great acts we've discovered on KYSM recently include Dallas alt-pop-rockers the Bright, and melodic songstress Maria Taylor.
2. JACK FM 102.7 (Classic and
Modern Rock), hellojack.com
3. KISS 99.5 FM (Alternative),
kissrocks.com
Best Evening News
KSAT 12
ksat.com
KSAT 12's Greg Simmons won Best Sportscaster.
2. News 4 WOAI, woai.com
3. KENS 5, kens5.com
Best News Anchor
Randy Beamer
News 4 WOAI
woai.com
WOAI's meteorologist Jennifer Broome won Best Weatherwoman. Read about them on page 68.
2. Chris Marrou, KENS 5, kens5.com
3. Ursula Pari, KSAT 12, ksat.com
Best

Weatherwo/man
Jennifer Broome,
StormTracker 4
Chief Meteoroligist
News 4 WOAI
woai.com
WOAI's Randy Beamer took home another Best of SA award, for Best News Anchor.
2. Steve Browne, Meteorologist,
KSAT 12, ksat.com
3. Bill Taylor, Meteorologist, KENS 5, kens5.com
Best Sportscaster
Greg Simmons
KSAT 12
ksat.com
KSAT 12 also won Best Evening News.
2. Don Harris, News 4 WOAI, woai.com
3. Joe Reinagle, KENS 5, kens5.com
Best Local Columnist
Cary Clack
San Antonio Express-News
San Antonio Express-News also won Best Local Website.
2. Carlos Guerra,
San Antonio Express-News
3. Michael O'Rourke,
San Antonio Express-News
Justin Parr
We think it's the good-natured yet dark humor coupled with the occasional lecture and history lesson: repeat Best of SA winner Cary Clack holds onto his title. Trinity University Press is publishing a collection of his essays this spring.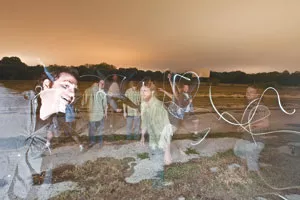 Justin Parr
Emvergeoning's elusive, creative hive mind: Ben Judson, Thomas Cummings, Aaron Forland, and Justin Parr.
Best Local Blogger
Emvergeoning
emvergeoning.com
Local arts blog Emvergeoning continues to be a daily check-in site for the local arts community. Emvergeoning has evolved over the years as various members contribute in different ways: photographer Justin Parr adds images and occasional travelogues; photographer Thomas Cummings adds updates on the local scene; and Ben Judson contributes longer philosophical pieces that open up the conversation to issues in the national and international art world. The comments are filled with esoteric tangents, which often provoke a wide range of responses, and have become just as much of the blog as the bloggers themselves.
Best Local YouTube Videographer
No winner
No clear favorites emerged from this second-time category, but readers did speak up for the faux-human newscasters at "Perspectives," found at youtube.com/user/jerrodkingery. The puppet duo of Laughn De La Croix and Rodney Grimes are "back in the future, looking at the past," dropping some illuminating nuggets (which I am assured is normal for felt creatures), including San Antonio's cultural debt to the controversial decision to allow the Tower of the Americas restaurant to rotate, and the purchase of some "second-hand flamingos."
If you need a place to get started with your Alamo YouTubing, may we suggest you crack the 9/11 conspiracy (or simply enjoy some huffing and puffing with irritating protestors and bitch cops) by wedging your url into WeAreChangeSA. Keep in tune with the spirit of independent media with TV4SA. And, if there's a march, you can bank on sacrangervideos to bring you the moving pics.
Best Social Media

Phenomenon
No winner
You weren't born online, but you got there as fast as you could, dincha, you with your txt-weary thumbage? Now, as you trade furious tweets between classes, update your status from the loo, and post video clips of yourself at some of the city's less appropriate landmarks, maybe it's time to think about what this wired life hath wrought. When we asked what the Best Social Media Phenom was, it wasn't celebrity we were after, but platforms. Is Facebook still your boy? Is MySpace really a bad hook-up site? Who's caught up in the gravitational field of video-rich Seesmic? So, log in, sign up, and make yourself felt in the social-media stratosphere. We'll try you again next year.
Best Local Website
The Express-News also won Best Local Columnist.
2. sacurrent.com
3. emvergeoning.com
Best Local Website
Best Columnist — Cary Clack
San ANTONIO EXPRESS-NEWS
mysa.com
A newspaper guide to destruction: Take the bloodletting Craigslist free online classifieds, add a splash of auto-sales collapse, and fold it into an ever-lengthening trend away from newsprint. Bring to a rapid boil in the U.S. housing bubble rupture and resulting economic depression, and you come out with a (be kind) streamlined San Antonio Express-News paper on your doorstep. To their credit, the daily has managed to carry its product more deeply over to the web with a catchy, shortened url — mysa.com — significantly brighter interface, and easily navigable home page with a growing roster of bloggers. The moderated forum is seeing some use, too. Keeping things easy-on-the-eye and useful, mysa.com has taken the paper's presence in a positive new direction even as economics led to dozens on dozens of news staff being shown the door.
Our readers also found Cary Clack (way back there in SA Life, no less) a continuing source of illumination, followed closely by Carlos "You Got the Wrong Guy" Guerra.
Best News Anchor — Randy Beamer
Best Weatherwoman — Jennifer Broome
NEWS 4 WOAI
woai.com
Blessed with a perfect anchorman name (so Ron Burgundy-classic, it sounds made up), and an easygoing manner, Randy Beamer has also shown a willingness to (literally) plunge into some dangerous waters. He reported on San Antonians who run a hospital in Iraq, tsunami survivors in Sri Lanka, and New Orleans residents recovering from Hurricane Katrina. Beamer beat out KSAT's Ursula Pari and KENS 5's venerable Chris Marrou, the man whose "Eyewitness Newsreel" has elevated the blooper montage to an art form.
Stormtracker 4 Chief Meteorologist Jennifer Broome backs up her meteorology chops and reassuring delivery with a perfect storm of community involvement, including her "Jen's Kids" partnership with Big Brothers Big Sisters of South Texas, the Susan G. Komen Breast Cancer Foundation, the Witte Society, the Cancer Center Council, and the Junior League of San Antonio. Those cumulus-sized billboard photos (and cinematic "Stormtracker" title) haven't gone to her head: As folks who bump into her around town as she runs (her own!) errands will tell you, she's friendly and down-to-earth.