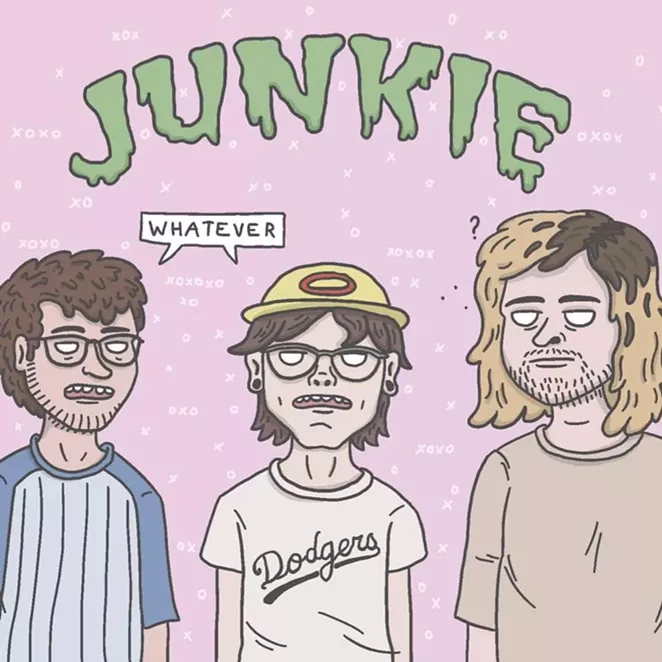 Via Facebook
Daniel Garcia-Moreno, Jonathan James and Mark Perez of Junkie
Filled with tunes like "Bowls" and "Always Bummed Always in Love," Junkie's new album
W/E
is on sale for
$4.20
. From that price point, plus the perma-stoned lo-fi on the record, it'd be too easy to underestimate the Southside trio as strictly a party band. But, as Ryan Brummett, of
Mondo Nation
and Paper Tiger, says, "The kids got hooks."
On
W/E
and their prior efforts, Junkie learned quickly how to string audiences on their scruffy, scuzzy product. While most bands formed in high school are barely struggling to rise above their influences and cover material, the trio of Mark Perez, Jonathan James and Daniel Garcia-Moreno know what they want (weed, beer, rock 'n' roll) and know how to get it (work, diving into drum sets, more work).
Junkie began three years ago, when Perez came to James with a band name and the bones of a song called "The Boyz." "That's what we called our group of friends," says James. "10 best friends, all dudes and one girl, who passed away. She was the 'Z' in boyz. She was the whole reason we got off our ass to do shows."
Scores of high school bands make noise and annoy neighbors without ever booking a show. But to raise money for their late friend, Junkie got just tight enough to get a memorial and benefit show in the works. "We pulled together as friends and as a band and really buckled down," says James. "I honestly still feel she's the driving force."
Three years later, the band maintains that devotion to their friends. As a mostly underage operation, the bars and 21+ venues in town didn't really serve their fan base. So, last summer, the trio began its Junkfest series in James' backyard. "Bars are cool, 'cause you'd make $60, but it's tiring 'cause people don't really care," says James. "Before we hit Imagine [Books & Records], we wanted to establish something that would grow. There's kids who need an event to feel at home with."
If you build it, they will get stoned and hang out.
The cover of Junkie's W/E
From these house parties and pool shows, Junkie emerged with the material for
W/E
, 12 cuts of simple and delightful home recording. The band lives and dies within the confines of a surf backbeat, as Perez nails one-note-at-a-time guitar riffs with a natural ear for melody. Somewhere in his compressed-to-hell voice, he runs through the plot points of teenage love and party lust; "She's cute I better play it cool" and "I kissed her and I miss her" sung on repeat.
"It's never really too over-thought," says James. "Me and Mark — mainly Mark — like to write really spontaneously. If we're practicing, we're not gonna stop and over-analyze it."
It's exactly the kind of impulse-driven music you want to hear from a crew of 18 to 21-year-old musicians. For something young, fun and — in the best way possible — dumb, look no further than whatever.
Junkie Tour Kickoff feat. The Two Lips, Levees, Ants, The Flower Shop.
$7, All Ages, 7pm, Imagine Books & Records, 8373 Culebra Rd, Ste 201B, (210) 236-7668