Timbo's, the off-shoot of the late Little Hipps, will close its doors this June after receiving a 90-day notice from their landlord to vacate the premises.
According to a
gofundme crowdfunding
page set up by Teresa Lang, the restaurant hasn't been able to keep up with the rising costs of the Broadway corridor.
Presently, we have been at this location for ten years, but the increase of property taxes in central downtown San Antonio has made it nearly impossible for our little mom and pop to keep up.
6 families were devastated with a stroke of a pen, when the landlord delivered a 90 days notice to vacate the premise on March 31, 2017.
The literal mom-and-pop burger shop owned by Teresa and husband Tim "Timbo" Lang, sits across the way from Stay Golden Social House on Pearl Parkway. The patio bar will also close some time this June and will be turned into a 10-story office building.
The Langs received the notice on March 31 from their landlord Harper/Huddleston Inc. and were "shell-shocked and "completely devastated."
"It'll be impossible for us to go forward," Teresa says while pointing out the improvements to the building and equipment will stay as it is bolted to the building. "We'd have to borrow to recover from that and we can't do that at our age."
Though the Langs tried to negotiate a new lease in October, worries of the political climate, increases in taxes and the onslaught of change to the area made them hesitant to sign a 5-year agreement. According to the couple, Harper/Huddleston wouldn't agree to a one-year term, and offered a month-to-month lease with the option for either party to terminate the contract with a 90-day notice. The Langs say Harper/Huddleston has already leased the building to a new tenant. We've reached out to the real estate developer for comment.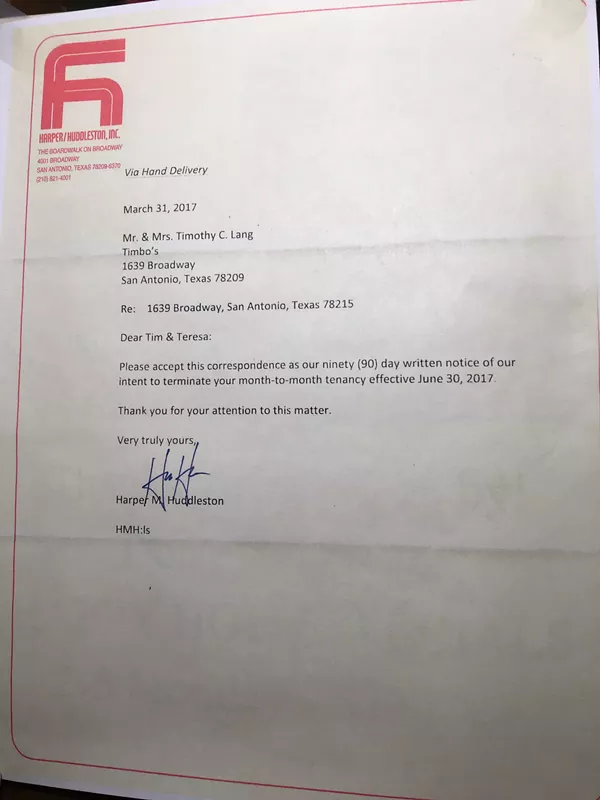 Timbo's is known for its
beefy homestyle burgers
made using Bolner's Meat Market beef. It opened in 2003, as an ode to Little Hipps, where Lang worked for 27 years. Little Hipps was known as the home of shypoke eggs, "It's essentially a nacho made to look like a fried egg, but the addition of silky ham and bright tomato takes it to a new level," as described by John Griffin of
SavorSA
. Once Timbo's closes, Armadillo's will be the lone remaining restaurant to offer the classic San Antonio appetizer.
For now, the Langs have no plans of relocating and are still reeling from the news.
"[Harper/Huddleston] owns millions. The only reason he's picking on a little peanut like me and throwing us out is nothing but greed," Tim said.
Proceeds from the
gofundme
page will benefit six families affected by the closure. As of right now, they've raised more than $200 of a $50,000 goal.
1639 Broadway, (210) 223-1028.