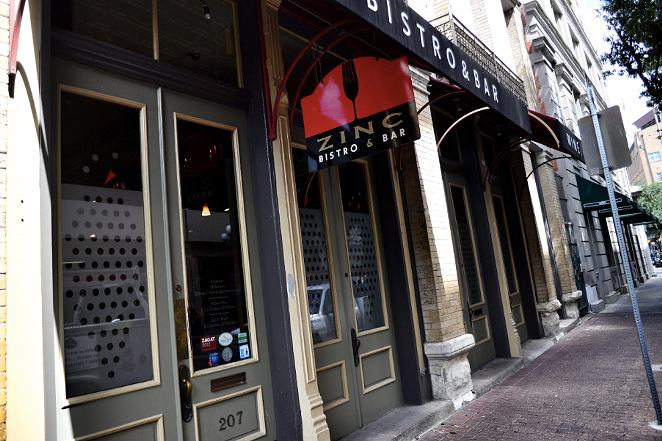 Courtesy
Visit Zinc Bistro & Wine Bar on Cinco de Mayo for Zinco de Mayo.

For those of you who didn't think 11 days of Fiesta was really enough time to maximize your inner party animal, make your way down to Zinc Bistro & Wine Bar (207 N. Presa) on Cinco de Mayo (Thursday, May 5) for their Zinco de Mayo Happy Hour from 3-7pm.

Cinco de Mayo, of course, is the observance of the Mexican Army's victory over French forces at the Battle of Puebla on May 5, 1862. No history lessons at Zinc, however. Instead, stop in for shared plates (does not include the Chili Mac & Three Cheeses) and specialty drinks at half off their regular price.

How can you go wrong with Boudro's Tableside Guacamole for $4.50 or Faux Gras (chicken liver pate served with sun-dried cherry marmalade and pistachios) for $5.

Specialty drinks include Orange Blossom Martini (Happy hour price: $4.50), Zinc Sangria (Happy hour price: $3), 10 Cane Mojito (Happy hour price: $5), and plenty more options.

Make reservations for Zinco de Mayo at (210) 224-2900.