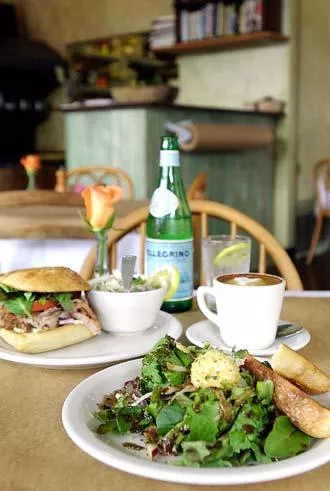 From front: Baked goat cheese salad - ""Pure Luck"" goat cheese rounds covered with herbed breadcrumbs, baked, and served on mixed greens with fruit and sherry vinaigrette; pulled pork tenderloin sandwich on grilled ciabatta bread with horseradish mayonnaise, raspberry and smoked pepper jam, red onion, tomato, and mixed lettuces served with a side of lentil salad.
Release Date:
2003-09-11
At high noon in Bandera, the Cowboy Capital of the world, not much happens, I'd reckon. But at 9 on a Friday evening, the joint is jumping. Well, twitching, at least. A quick walk down Main Street revealed a seemly crowd at the Old Spanish Trail restaurant, chowing down on salads from the chuckwagon bar and swiveling on genuine saddle seats at the counter. Some serious boot scootin' was going on at the Bandera Saloon up the street. And in the ultra-atmospheric basement that is Arkey Blue's Silver Dollar, Arkey and his band were warming up for a long evening of Shiner suds and folks shuffling around in sawdust on the dance floor.
Fool Moon Café, on the other hand, was just winding up its evening operations. Open at odd hours, the diminutive café/bakery/coffee house, with its artfully aged walls, scarred pine floors (we imagined spurs doing the scarring, of course), and tables topped with butcher paper, had filled maybe half of its 45 seats during the two hours it's open for Friday dinner. At the leisurely pace of service, it is hard to imagine that much more of a crowd could be accommodated by Jason Boone and his hard-working sidekick Cory Winfield. We didn't feel neglected, but we did spend the two entire hours at table. The wait gave us time to observe such details as the bookshelf filled with reassuring tomes the likes of The Baker's Apprentice, James Peterson's Splendid Soups and Child, Bertholle, and Beck's Mastering the Art of French Cooking, Vol. 1. There might have been a grilling book somewhere, too, for the evening's two entrée selections (you won't know what they are until you get there) were both cooked on a small grill just outside the front door. This may have been a bow to the cooling system (two ceiling fans) or to a cuisine that Boone calls Hill Country Provençale (with California, Italy, and Mexico thrown in for color). We appreciated both aspects. We also appreciated the thematically appropriate olive oil/lavender soaps in the unisex bathroom, additionally accessorized by a sagging sofa that would have been put out of its misery long ago had it been a horse. No defects, endearing or otherwise, marred the inventive salad, the only available first course option. Smacking equally of Napa and Nice, the mixed greens were enlivened with chopped hazelnuts, pitted fresh cherries, and a slice of tangy-fruity Mahon (from the Spanish island of Menorca) that played beautifully against the sharp vinaigrette and the toasty nuts. There may not have been much choice involved here, but sometimes it's good to just sit back and be fed. This was beginning to look like one of those times.
Minimal choosing was required for the two entrées: lamb chops or New York strip. The chops were served atop a coarse polenta and were topped in turn with a roughly chopped tapenade. Black olives (not the California variety) and lemon zest were the dominant flavors of the tapenade - usually much more of a paste of olives, anchovies, olive oil, and the like. Although many variants on the theme are out there (I have a great one with dried fig), I have to admit I do prefer a little more fraternization between the ingredients; this was a good topping - perhaps just by another name. For its part, the brace of double lamb chops was exquisite, the herbed polenta a suitable accompaniment (although it needed salt), and the caper berry garnish a great, pungent accent. Grilled green and yellow squash accompanied each entrée. They were just as you would like to be able to do (and perhaps can) on your own grill. Spears of sweet potato were added to the steak plate, and they were even better than the squash. In keeping with Boone's eclectic ethic, the steak was bedded on a garlicky aioli and, in theory, brushed with a chipotle glaze. Chipotle can usually stand up to garlic, but in this case, it was a wimp; we detected none of it. Yet it wasn't really missed. Perfectly cooked meats such as this deserve a big red wine, but the kicker is that you'll have to bring your own, and you're encouraged to so; Fool Moon has neither wine nor spirits. (Not knowing what the entrée will be makes this a little dicey, but try to stay flexible.) The truly fastidious will also want to bring stemware (some of you do that). There may be no corkage fee, but you will also drink wine from tumblers. By accident, the wine I brought, a Penfolds shiraz/mourvedre blend, worked just fine with the entrées and didn't get all huffy about being served in water glasses. In line with the routine so far, there was but one dessert, a snappy blackberry crisp with vanilla bean ice cream - perfect for sharing, there being no excuse to sample every other offering on the menu. The only problem with this otherwise appropriate ending was that the blackberries were blah: They had the seeds but not the taste. A little doctoring might have helped some, but in the long run, blah berries make boring bedfellows. Past starters have included the likes of roasted Mission figs with Stilton and garden lettuces with a poached duck egg, wild mushrooms, and duck skin croutons. Previous entrées of interest count among their number roasted game hen with thyme and bay-infused lemon, salmon baked in a fig leaf with flower petal butter, and pan-fried halibut with a hot sherry and herb vinaigrette - all presumably cooked inside at more temperate times of the year. So, if Jason and sidekick can sauté a fish as well as they can grill a steak, Fool Moon becomes well worth the 45-minute drive from San Antonio - worthy wine in hand. And if you have a designated driver, an after-dinner brew or two at Arkey Blue's should complete the Bandera experience. Its basement location gives the word "dive" more exalted meaning, and you can't find this combination of high- and truly low-brow experience anywhere in the Alamo City. •