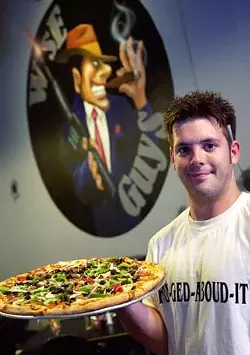 Waiter Will Zebell shows off a Supreme Pizza recently at Wise Guys Bar & Pizzeria. The Supreme pie features a homemade crust topped with tomato sauce, fresh onion, bell pepper, olives, mushrooms, pepperoni, canadian bacon, sausage, and meatball.
Release Date:
2004-06-03
The peripatetic Giusseppe Palmeri has occupied more restaurant locations in San Antonio than Taco Bell has outlets - exaggerating only slightly. OK, a lot, but the man nevertheless gets around. His last place, as I recall, was the star-crossed site now occupied by San Remo redux at the corner of West and Lockhill-Selma. In what looks like a strategic retreat, he is now ensconced in a strip center flanking the Embassy Theaters. Labeled a bar and pizzeria, Wise Guys is a far cry from the ambitious enterprises he has mounted in such places as The Yard on McCullough.
But then Wise Guys serves a different purpose, says Palmeri. His impeccably white shirt betraying no signs of travail in the kitchen, he was in attendance (I use the word precisely) at the restaurant on this visit, and he confided that he'd established the place for his son, Tony. (In the works is another eatery for second son, Giovanni.) Hence, I guess, the limited menu and the emphasis on a mock Mafioso theme featuring a cigar-chomping capo surrounded by cartoon-style bullet holes. The Don is taking care of la famiglia. Despite pervasive darkness and a certain schizophrenia, in which snazzy bar lights contrast with stone-like arches and a fish tank that seems left over from previous occupants, the place is not unpleasant. A band spent the better part of the time we were there setting up for a crowd that had yet to appear. We were, in fact, the only diners on an early Saturday evening, allowing Will the Waiter to concentrate on us to the best of his ability (in fact, he was pretty good) and commanding Jose the Cocinero's complete attention in the kitchen. (I assume it was Jose's familia that wandered in and out during our dinner.) The liquor side of the bar seems well-stocked. Wine is another matter.
There is no wine list, since in the way of one family supporting another, Tony simply goes up the street to Joe Saglimbeni's and buys whatever catches his attention. This, in theory, could lead to some good finds, but it does leave Waiter Will in the dark (along with the rest of us), so we resorted to asking him to show us all the bottles. The result was an intense, Spanish Lar de Lares that was more than a match for the food to follow. (It started out seeming a tad tired from being previously opened, but rose to the occasion as the evening progressed - or perhaps we did.) The menu is short enough for me to have committed it to memory, but I didn't, being too fascinated with the guy at the bar playing cards on a computer screen. The best appetizers, in any case, are the fried calamari - lightly breaded and surprisingly tender - served with a marinara dipping sauce just lusty enough, and the familiar-to-fans-of-Giusseppi breaded artichoke hearts parmigiana mantled with melted mozzarella. The servings were huge, which was a problem, given that both plates were very good. And thus began the pile of Styro containers that was to accompany us out the door at evening's end. Wise Guys' house salad is an honest affair with fresh romaine, purple onion, the usual taste-free tomato, and a house-made herbal vinaigrette in which tarragon triumphs. It works. (Herbs with a spicy edge dominate the breadsticks, prompting Dining Companion to declare them too aggressive for her taste.) Sandwiches and calzones, a couple of pastas and, of course, pizzas, constitute the rest of the menu. Determined to add to the Styro pile, we ordered a meatball sandwich and lasagna to go and settled in to do battle with Fettuccine Alfredo and a Supreme pizza - cheese and bianco being the other options. I don't normally go for everything-in-the-kitchen pizzas, but this one I liked. Multi-colored bell peppers, mushrooms, black olives, sausage, pepperoni: It all came together on a good crust with a nice balance of flavors. Alfredo delivered as well, with a pepper-flecked and appropriately creamy sauce supporting perfectly cooked pasta. As for the take-home tower, Waiter Will apparently confused our sandwich order, but he may have done us a favor; when the box was opened, instead of meatball it contained a killer sausage sandwich with green and yellow bells, mushrooms, marinara sauce, melted cheese, and maybe more. It was kind of like a pizza served between pieces of puffy bread. The sandwich bread, in fact, was the only casualty of the take-home experience; reheated, the lasagna more than passed muster, with balance between ingredients once again being the buzzword. Having more or less exhausted the menu at a single pass, I guess I don't have to go back to Wise Guys any time soon, but there is Giovanni's joint - and maybe an actual wine list with prices attached - to look forward to. A note on reheating, by the way: Almost everything works better if put in the oven, not the microwave. Another observation: cold pizza may be palatable, but cold calamari are catastrophic. •