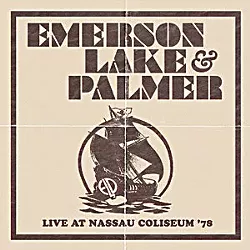 Emerson, Lake & Palmer: Live at Nassau Coliseum â??78
Release Date:
2011-02-23
Rated:
NONE
Genre:
Recording
ELP was the most commercially successful progressive supergroup of the '70s, but the legion of fans who bought more than 40 million of their albums are nothing in comparison to their detractors or those who, today, don't know who the heck ELP was. The group's live performances are partly to blame. Keith Emerson (who came from the Nice) loved to show his skills (and abs) surrounded by now-antiquated towers of synthesizers, while drummer Carl Palmer (from Atomic Rooster) was the prototypical solo drummer, complete with millions of toms, huge symphonic gongs, gyrating platforms, and a bell he played with his teeth. Vocalist/bassist/guitarist Greg Lake (originally from King Crimson) was the voice of reason, a superb bassist who gave the commercial touch to the group. But for all their anti-punk classical-meets-rock pretentious excesses, ELP was a superbly tight trio of musicians who kept challenging each other and their times. Even though this legendary concert (until now only available on bootleg editions) includes "Lucky Man" but not "From the Beginning," it's still enough to show why only Led Zeppelin had a bigger live draw than ELP in those days, if you can digest the grandiosity of it all. At least as a historical document, this one's a must-have.
Check out our conversation with Carl Palmer, drummer for Emerson, Lake & Palmer, at the Sound and Fury blog.