According to CNN World and other news outlets, Sundance winner and Oscar-nominated photojournalist/filmmaker Tim Hetherington has been killed today by a rocket-propelled grenade while on assignment in Misrata, Libya. At the time of his death, the British-born, Brooklyn-based artist was working for Panos Pictures.
In 2008, Hetherington won the World Press Photo's first prize for the following photograph, taken in September 16, 2007: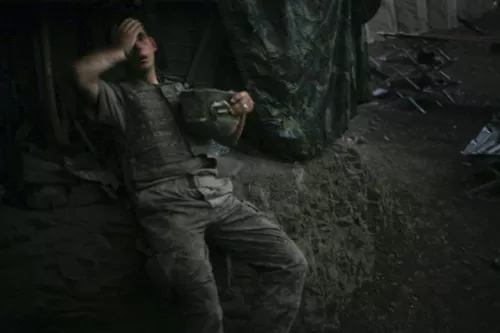 The photo shows a soldier from the 2nd Battalion Airborne of the 503rd US infantry at the "Restrepo" bunker, named after a soldier killed by Afghan insurgents. The documentary about that bunker, Restrepo, co-directed by Sebastian Junger, won Best Documentary at the 2010 Sundance Film Festival and was nominated for an Academy Award.
"In besieged Libyan city of Misrata," Hetherington wrote on his Twitter account on April 19, the day before his death. "Indiscriminate shelling by Qaddafi forces. No sign of NATO."