PETA targets SeaWorld San Antonio
by SA DAILY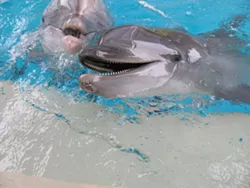 courtesy photo
Animal rights group People for the Ethical Treatment of Animals is calling for an investigation into a dolphin injured at SeaWorld San Antonio, filing a complaint with the U.S. Department of Agriculture Tuesday.
PETA provided photos an anonymous visitor took during a Dec. 9 trip to the park showing a bottlenose dolphin with a piece of flesh missing from its lower jaw (pictured above and below). The complaint filed Tuesday asks the USDA's Animal and Plant Health Inspection Service, which regulates marine-life theme parks, to investigate possible Animal Welfare Act violations.
SeaWorld, in an emailed statement, called the injury "a minor, quarter-sized abrasion" that has nearly healed. The company did not say how the dolphin was injured.
In its complaint filed Tuesday, PETA cites an incident last month where a dolphin bit a young girl's arm at SeaWorld's Orlando park. PETA also references an incident from SeaWorld's San Diego park in October, where an orca named Nakai was discovered with a hunk of flesh missing from its lower jaw, the wound so deep it exposed the jawbone. Though SeaWorld said the orca was injured after colliding with a portion of the pool, PETA claimed anonymous whistleblowers told the organization Nakai was attacked by other captive, angry orcas.
San Antonio's 250-acre complex on the city's outer rim is the largest of SeaWorld's three marine life parks. Annual inspections APHIS has conducted over the past two years have found only very minor violations. But this January SeaWorld San Antonio got an official warning from the USDA for "repeated failure to provide drain covers that are securely fastened in order to minimize the potential health risk of animal entrapment resulting in the death of a Sea Lion."
"

SeaWorld isn't safe for dolphins – including orcas – or for members of the public," said PETA president Ingrid E. Newkirk in a statement yesterday. "Marine-mammal facilities are a living hell for freedom-loving dolphins, who are taken from the great oceans and condemned to live in cement boxes."
PETA activists have long had SeaWorld's parks in their crosshairs. The Oscar-winning documentary the Cove, which accused SeaWorld of helping fuel a gruesome dolphin-slaughter industry in a Japanese fishing village, helped re-ignite criticism aimed at SeaWorld in 2009. After a massive 12,300-pound bull orca attacked and drowned his trainer at Orlando's SeaWorld park in 2010, public debate swelled around marine-life theme parks in general, and SeaWorld in particular, questioning whether such marine mammals have any business being tamed to entertain.
Research from Humane Society International puts annual mortality rates for captive orcas at three times higher than their wild counterparts. Some of HSI's research has showed wild bottlenose dolphins living nearly twice as long as those in captivity. HSI warns the most common cause of death for captive orcas is infection, and that chronic stress may be an important factor in weakening the animal's immune response. Orcas in the wild swim up to 100 miles a day, while dolphins may travel about 40 to 50 miles a day. 
As of 2010 84 animals had died at SeaWorld San Antonio (among them: 7 harbor seals, 35 California sea lions, and 2 Hawaiian monk seals) according to a U.S. Marine Mammal Inventory database created by the Sun-Sentinel in Fort Lauderdale. Here's a breakdown of the whale and dolphin body count between SeaWorld San Antonio's opening in 1988 and 2010:
Pacific White Sided Dolphins: 9. Two dolphins captured in the wild lived to be 25 and 33 years old. Causes of death include septicemia and fungal infection. The average age of death for the 4 dolphins born in captivity was 3.75 years. Three dolphins had no stated DOB. According to the National Oceanic and Atmospheric Administration, "This species of dolphin can live for more than 40 years."
'False' and 'True' Killer Whales: 7. Among the causes of death were GI tract obstruction, "necrosis of the cerebrum," fungal infection, and pneumonia. The four killer whales born in captivity averaged a 6-year life span. According to NOAA, males typically live for about 30 years, but can live as long as 50-60 years; females typically live about 50 years, but can live as long as 80-90 years."
Bottlenose Dolphins: 12. One wild-capture dolphin lived to be 38 years old, dying in 2007 of a perforated stomach that led to toxemia and septicemia. Other causes of death include pneumonia and bronchial spasms. For the 8 dolphins born in captivity, the average lifespan was 3.5 years. NOAA says, "This is a long-lived dolphin species with a lifespan of 40-45 years for males and more than 50 years for females."
White Beluga Whales: 12. Causes of death include "acute cranial and cervical trauma," cardiac arrest and pneumonia. The average lifespan for the 4 white beluga's born in captivity was 2.5 years (including one infant whale that died after a month in 2008). Belugas typically have a lifespan of about 35-50 years, according to NOAA. 
-- Michael Barajas 
Support Local Journalism.
Join the San Antonio Current Press Club

Local journalism is information. Information is power. And we believe everyone deserves access to accurate independent coverage of their community and state. Our readers helped us continue this coverage in 2020, and we are so grateful for the support.

Help us keep this coverage going in 2021. Whether it's a one-time acknowledgement of this article or an ongoing membership pledge, your support goes to local-based reporting from our small but mighty team.

Join the San Antonio Press Club for as little as $5 a month.
Euclid Media Group, LLC
Read Our Sister Publications