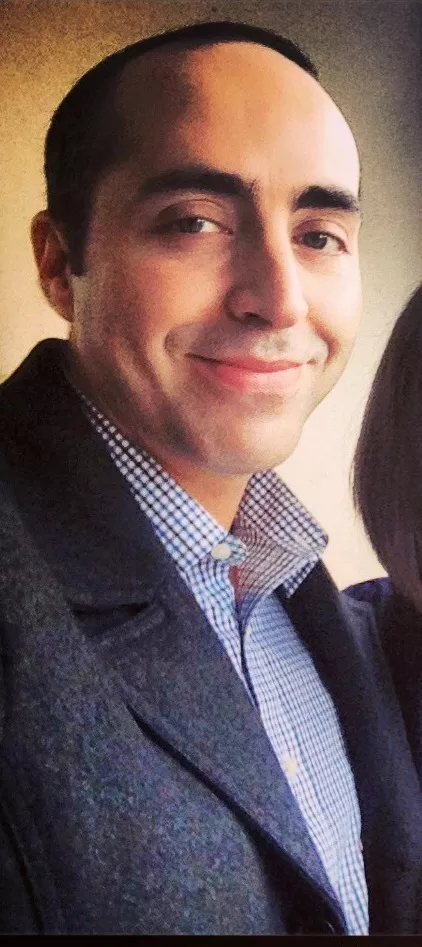 Michael Cuellar
The Texas Civil Rights Project yesterday filed a lawsuit against SAPD Chief William McManus, San Antonio City Attorney Michael Bernard, and the City of San Antonio for the rare practice of banning troublemakers from City Hall and Municipal Plaza.
The group sued on behalf of former SA Fire Department contract coordinator Michael Cuellar, one of two disgruntled ex city employees who have received sweeping criminal trespass notices signed by McManus and Bernard. The letter indefinitely bans Cuellar from attending Council meetings, citizens to be heard sessions, or any other public meeting at City Hall or Municipal plaza. Cuellar could face arrest, along with a fine of up to $2,000 and up to six months of jail time, if he violates the ban by stepping foot in City Hall or Muni Plaza.
In December we profiled Cuellar and John Foddrill, the other criminal trespass letter recipient with his own bitter fight against the city. The City hasn't fully explained why both are banned, and neither have been provided a way to appeal the decision. While Bernard wouldn't speak to us for the December piece or provide us with even a general statement about the process of banning citizens from COSA buildings, McManus has handed out a statement saying the letters are only issued "in direct response to a threat, threatening behavior, and/or harassment."
Bernard, who hasn't returned the 
Current's
 calls for comment on the TCRP's lawsuit, explained himself, sort of, to TPR last month, again insinuating Cuellar was a serious threat. Cuellar in his lawsuit says the city has undertaken a "public campaign to justify their actions by defaming Mr. Cuellar and wrongly accusing him of being a threat to public safety."
Cuellar is apparently no longer speaking to the media, directing the 
Current's
 inquiries to the TCRP (he did, however, provide the above photo). That could in part be due to the oddly dismissive treatment he got from
 E-N
columnist Brian Chasnoff last month, who reported on Cuellar's arrest when he refused to sign a speeding ticket. Cuellar accused the officer of targeting him because of ethics complaints he's filed against numerous city employees, including City Manager Sheryl Sculley. Chasnoff wrote it off as just another story "in the annals of delusions of persecution." Chasnoff glossed over the problematic, and likely unconstitutional, nature of Cuellar's indefinite ban from City Hall buildings, writing
 only, "In August, he was banned from city buildings because staff considered him a threat."
After Cuellar met with the TCRP last month, director Jim Harrington told us, "The absolute ban they have on him without reason, indefinite, and without appeal, it's just amazing." Harrington filed the suit only on Cuellar's behalf Monday, and in a prepared statement said, "This is one of the most bizarre First Amendment cases I've seen in my 40 year legal career." Harrington last year challenged the City of Austin's practice of banning Occupy protesters from City Hall and won.
Foddrill filed his own lawsuit against the city last month. Foddrill, who is representing himself, has not received the backing of the TCRP like Cuellar has.
While we still don't really know why Cuellar was banned, we do know that in February 2012 Cuellar was told to resign or be fired from his position with the SAFD after an incident with a fellow worker – Cuellar claims in his lawsuit the incident was later "determined not to have any merit."
Following his resignation, Cuellar began filing numerous public information requests with the city, hoping to find why he was let go. Cuellar, in his lawsuit, also says he began looking for any information related to "improprieties" he had discovered at the fire department.
One of those requests appears to have been right on target. On August 20, 2012, according to his lawsuit, Cuellar sent the city a request seeking any information on Nim Kidd, the man who's now in charge of emergency management at the Texas Department of Public Safety. Cuellar had heard that Kidd, a former SAFD district chief, was somehow still drawing income from the City of San Antonio. Soon afterward plainclothes officers delivered Cuellar's criminal trespass notice dated August 31, 2012 to the home of Cuellar's parents.
But just last month the 
Austin American-Statesman
 ran an investigative report detailing exactly what Cuellar was after. Kidd, DPS' most costly executive, has a special roundabout pay arrangement in which San Antonio pays Kidd's DPS salary, but is in turn reimbursed by Texas A&M's Engineering Extension Service, which contracts with DPS. As Statesman reported:
"

Kidd was hired under a complicated deal that involves one paycheck, two jobs and contractual agreements between three different public entities. Until now, it hasn't been publicly disclosed. Kidd's real job is at DPS. The second job is a no-show position with San Antonio's fire department that enables Kidd to earn credit toward his city firefighter's pension while working elsewhere. His desire to keep growing that retirement was what motivated the roundabout arrangement, DPS officials said."
After last fall's Convention Center scandal, Cuellar's ethics complaint was the main reason former deputy city manager Pat DiGiovanni was ever publicly admonished by the city's Ethics Review Board in public. Cuellar also filed ethics complaints against former city employees who got free or discounted rooms at the Grande Hyatt in return for giving away free Alamodome suites during 2012's Monster Jam event – the Ethics Review Board recommended law enforcement investigate three former city employees for possible criminal charges in the matter.
We don't know exactly why Cuellar has been deemed a "threat" by the powers that be. But so far his hunches on shady city dealings have been spot on. – Michael Barajas
TCRP sues COSA over city hall ban by