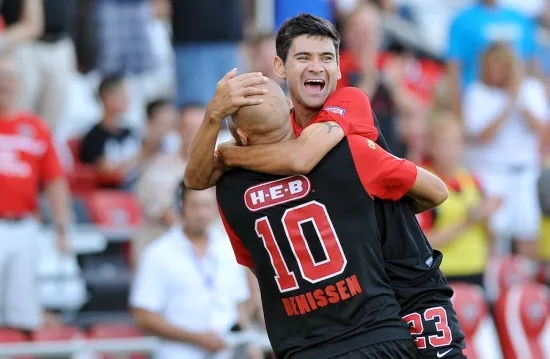 Hans Denissen and Javier Saavedra celebrate the Scorpions' first goal (photo by nasl.com)
Hans Denissen did it again, saving the Scorpions from a disappointing draw against FC Edmonton at Toyota Field. The San Antonio forward scored in the 5th minute with a beautiful chip off an excellent assist from Javier Saavedra, but Edmonton equalized three minutes later via Daryl Fordyce's unstoppable left-footed shot from the right.
After a pretty even first half (although Edmonton had the best chances), the Scorpions took possession in the second half but neither team played good soccer. As time went on, and with the players exhausted, the game turned sloppy and unbearably boring, but in the last 10 minutes the Scorpions picked it up and, with the game almost over, Denissen scored again after a great run by Walter Ramírez on the left (the Honduran had substituted Javier Saavedra, who had a great game and ran like a kid in spite of his 39 years of age). Denissen's header hit the post, but the ever-alert Dutchman got the rebound and scored with a low right-footed shot.
"I'm absolutely devastated the better team lost today," said Edmonton coach Colin Miller. Baloney: the Scorpions controlled the second half and were, sloppiness and all, the only team not happy with a draw.
The Scorpions are now 4-2-4 in fourth place tied with Minnesota United FC but with a -1 goal differential. Edmonton fell to 2-5-4, one position before last-placed Fort Lauderdale (2-2-6).
Next for the Scorpions, winners of their last four games: 6/29 at Fort Lauderdale and 7/4 vs. first-place Carolina Railhawks (5-4-1) at Toyota Field (buy tickets here), thus ending the Spring season. In between, an attractive friendly against Mexico's Tigres (from Monterrey) at Toyota Field on 7/6. Call (210) 495-8686 for ticket info. Tigres is an immensely popular team where Scorpions forward Javier Saavedra used to play at. Its roster includes Argentina's Lucas Lobos (a talented midfielder) and Emmanuel Villa (a lethal striker).