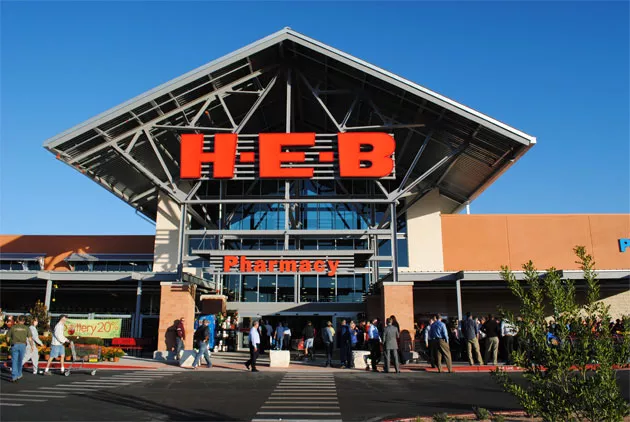 When H-E-B is not flexing their corporate muscle to divert downtown traffic, the San Antonio-based grocery chain is joining forces with the Spurs to sell you pre-cooked brisket. Last week, ESPN highlighted those goofy, but memorable H-E-B commercials featuring the stars of San Antonio Spurs.
Everyone knows these ads. They dominate the commercial break during playoff season.
"I'm aware that all NBA cities have these sorts of locally run commercials where NBA players pitch car dealerships and mattress stores and so on -- I've watched them in Houston for years now -- but I feel confident in assuming that none are better than Spurs/H-E-B ones," the article's author writes.
Indeed the commercials are pretty great. In them, Spurs players like Tim Duncan, Tony Parker, and Manu Ginobili shed their on-court tough guy facade to pitch H-E-B's foodstuffs. Here's one promoting H-E-B salsas that hit airwaves last October.
In related news, Business Insider, that site that gets inside business, or something, posted an article titled "13 Reasons Why H-E-B Is The Best Grocery In America." No matter how you feel about H-E-B's massive corporate influence and its impact on South Main Street residents, you have to agree their list is pretty compelling.
Anyone who has moved outside of H-E-B's vice grip on the grocery market knows that shopping for food and sundries at any other chain just isn't the same. Every Albertson's has this weird characteristic smell. Meanwhile, Kroger's is expensive, and they don't carry H-E-B's in-house ice cream brand Creamy Creations, so I don't know why Kroger's bothers existing.
So why does Business Insider think H-E-B is so great? Well, there's the fact that they stock Whataburger products, like their fancy and spicy ketchup, for one. They also tout the store's produce section, although, I'd like to point out that the H-E-B by my house didn't stock grapefruit this one time I had my heart set on it, but now I'm just making this about me. Anyway, grapefruit or no, H-E-B still beats the depressing hellhole that is Kroger's.