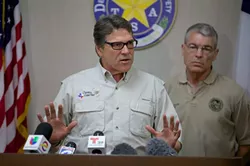 Via Flickr
Update: Aug. 16, 2014, 2:16 p.m.
At a press conference Saturday, Gov. Perry called his indictment a "farce of a prosecution" and stood behind his veto of the Public Integrity Unit's funding. The Texas Constitution "clearly outlines the authority of any governor to veto items at his or her discretion," he said Saturday in Austin. "I exercise this authority to veto funding for an office whose leadership had lost the public's confidence by acting inappropriately. "We don't settle political differences with indictments in this country...it is outrageous that some would use partisan political theatrics to rip away at the very fabric of our state's constitution," he said. Perry also called the indictments "nothing more than an abuse of power. "
I intend to fight against those who would erode our state's constitution and laws purely for political purposes, and I intend to win
...
I will explore every legal avenue to expedite this matter and bring it to a swift conclusion.
"
Our original post continues:
Late Friday afternoon, news broke that a grand jury in Travis County indicted Gov. Rick Perry on two felony counts of abuse of power and coercion. An ethics investigation began last summer after Perry threatened to veto state funding for a public integrity unit if Travis County District Attorney Rosemary Lehmberg didn't resign after pleading guilty to drunk driving. Perry's attorney released the following statement after the indictment: "The veto in question was made in accordance with the veto authority afforded to every governor under the Texas Constitution. We will continue to aggressively defend the governor's lawful and constitutional action, and believe we will ultimately prevail." When news broke, Texans for Public Justice, which originally filed the complaint against Perry's actions, and the Texas Democratic Party called for the Governor to step down. U.S. Rep. Joaquin Castro of San Antonio echoed their calls on Twitter:
The Texas Tribune's
Jay Root reports
 that special investigator Michael McCrum "said he interviewed more than 40 people and reviewed hundreds of documents in the case. He said that a time would be set up for Perry to come to court, be arraigned and be given official notice of his charges." According to the
San Antonio Express-News
, the indictment includes "one count of abuse of official capacity, a first-degree felony, and coercion of a public servant, a third-degree felony." Perry could serve five to 99 years in prison for the first count and two to 10 years for the second, the Express News reports. The Austin American-Statesman created an 
interactive timeline
tracing the case back to April 2013 when Lehmberg was first arrested in Austin. Back in April of this year, as reported in the
Texas Tribune
and
San Antonio Express-News
, Perry's aides allegedly "
worked to swap the resignation of embattled Travis County District Attorney Rosemary Lehmberg for restoration of the money."
 The Texas Observer has a
detailed piece
on the history between Perry and Lehmberg. The indictment comes as Perry has been
traveling the country
, likely getting ready for a 2016 presidential run. Now, his political future could be in jeopardy. According to the
Associated Press
, Perry is the first Texas governor to be indicted in nearly 100 years.
Read the full indictment document courtesy of Mother Jones, and real-time reactions from various officials and political experts are being added to the Houston Chronicle's politics blog.