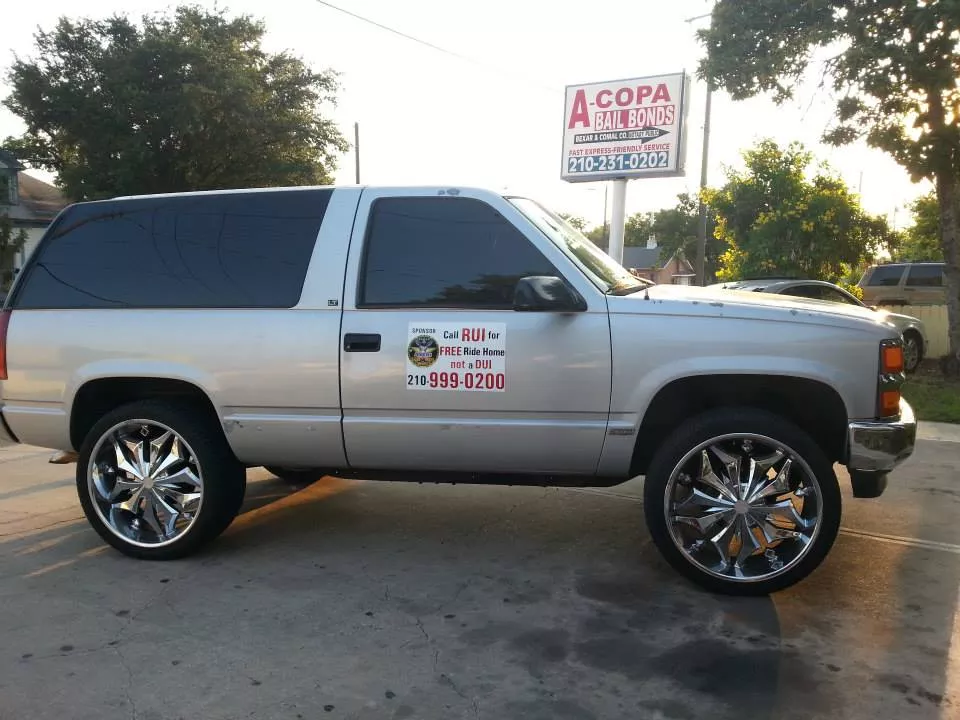 This RUI vehicle has some nice rims, doesn't it? Don't drink and drive, call RUI. Photo via RUI's Facebook page.
A local nonprofit that's given rides home to nearly 1,750 weekend warriors could use a morale boost.
RUI, an organization that will drive an intoxicated weekend reveler (and their vehicle) home from bars on Friday and Saturday was burglarized a little more than one week before its third anniversary, which lands on Labor Day.
According to Carly McClellan, RUI's volunteer and event coordinator, the organization's office at 1515 W. Martin St. was targeted sometime early Saturday morning on August 23. "I didn't leave till probably 3:30 in the morning. So somewhere between then and maybe 11, someone came in," she said. "The weird thing is there was no forced entry. So the cops think somebody picked the locks." Not only that, the thief was kind of polite. "The thief was selective and took their time. They un-mounted the flat screens and they even pushed the chairs back in," McClellan said. Beside a couple stolen flat screen TVs, the thief took RUI cellphones and chargers, but not the dispatch phone. "It was just really weird and random," she said.
And to be sure, the burglary affected morale at RUI, which has been struggling to operate as their volunteer base has recently shrunk. But on social media, and through a gofundme.com campaign, the nonprofit has received showers of support from the community. "We got an outpouring of support on Facebook and Twitter with people pleading with us not to shutdown," McClellan said. In fact, RUI has received pledges from people who say they will replace what was stolen.
But volunteerism has become a hurdle. On the night of the burglary, RUI had three supervisors and one dispatch taking all calls.  "Getting stuff replaced is great, but if you could just come volunteer for just one night
," she said. "If everyone would do that, we could operate fully functional. It's hard to get people to donate time."
However, RUI's mission is important and McClellan said the burglary may be a short-term disappointment, but long-term, the nonprofit is committed to its work. "We work together to reduce the number of drunk driving incidents by taking people home safely on the weekends. We also try to educate the community about the dangers of drinking and driving and the impact it has on the community," McClellan said, adding that San Antonio needs to have an honest conversation with itself about its drunk driving habits. "This is a preventable phenomenon. San Antonio is the number one city for drunk driving. I think it's a long time coming, but a culture change needs to happen and people need to change their ideas about drinking and driving."
And importantly, McClellan said RUI is not saying don't go out and have a good time. "We just want people to be safe about the driving part. This is a drinking city. We have many drinking establishments. We have movie theaters you can drink at. We have places to take your kids that have bars in them. Go out and have  fun, but make a plan."
RUI operates between 10 p.m. and 2 a.m. on Friday and Saturday. For more information, call (210) 999-0200 of visit RUI's website by clicking here.