Photo by Kevin Femmel
"I bring the scientists, you bring the rockstar."
The late Richard Attenborough's classic quote from the 1993 film Jurassic Park rings true for a new partnership between the Texas Parks & Wildlife (TPWD) and Witte Museum. The two organizations have teamed up to document and research the only known dinosaur footprints on public property in Bexar County. The prehistoric footprints can be found at Government Canyon State Natural Area off Galm Road on the far-northwest side.
Marise McDermott, President and CEO of the Witte Museum, told me this was "the dream partnership".
"The partnership with Texas Parks and Wildlife helps the Witte with its mission to promote lifelong learning through innovative exhibitions, programs and collections in natural history."
[Photos: 10 Tracks from the "Dinosaur Highway"]
Something tells me both Attenborough and his fictional Jurassic Park character, John Hammond, would have passed on the River Walk to spend a day checking out what Thomas Adams, Ph. D., Curator of Paleontology and Geology for the Witte, calls a "dinosaur highway."
As I took the 2.5-mile trek through the park on a rocky trail on a blistering, 100-degree summer day, I began to worry. What if the footprints are disappointing? Will I even understand why it's impressive without much scientific know-how? What if there is only a small amount of discernible footprints?
All of those fears faded away when I saw the first 18-inch tracks made by dinosaurs that towered over 15-feet tall. These gaping holes in the ground left nothing to the imagination, showing not only how many toes the dinosaur had but also the stuff that was left behind after falling off its foot.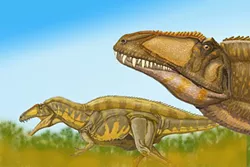 Illustration of the Acrocantosaurus. Image via Wikimedia Commons.
These tracks are truly staggering when seen in person. Photographs can't do justice for the size and scale of each footprint. The 110-million-year-old tracks are believed to have come from Acrocanthosaurus and Sauroposeidon during the Cretaceous.
This isn't a paltry, pint-sized collection of dinosaur impressions. There are over 150 easy to identify tracks.
"They weren't just here once," says Adams. "They were here again and again."
Can't make it to the park in the near future? You may miss out on the actual footprints should flooding occur and damage them. Don't fear, TPWD and the Witte are working with San Antonio College and UTSA to design 3D models, casts and replicas of the tracks to display at both the park and the Witte if the weather messes with the quality of the footprints.
For the city of San Antonio, this is could be a big deal in terms of tourism. There is only one other public exhibit of dinosaur tracks in all of Texas due to the fact that 95 percent of Texas land is private property. The discovery of the only public dinosaur tracks in San Antonio joins the reinvigorated Pearl Brewery, River Walk, and the Alamo as must-see attractions for both residents and out-of-towners.
Since 1972 the only other public area with dinosaur tracks was Dinosaur Valley State Park in Glen Rose, Texas. With this discovery at Government Canyon State Natural Area, locals will no longer have to drive over 200 miles to see dinosaur footprints in person.
"We've got lots of San Antonio pride," Adams professes. "This is just another reason to be proud. We can talk about the Alamo, we can talk about the river, but now we have more. Now we have dinosaurs, and if you ask me, that's cool."
The Government Canyon State Natural Area is located at 12861 Galm and is open Friday through Mondays, 7 a.m. to 10 p.m. Admission is $6 and free for children under 12. You can make reservations online here.