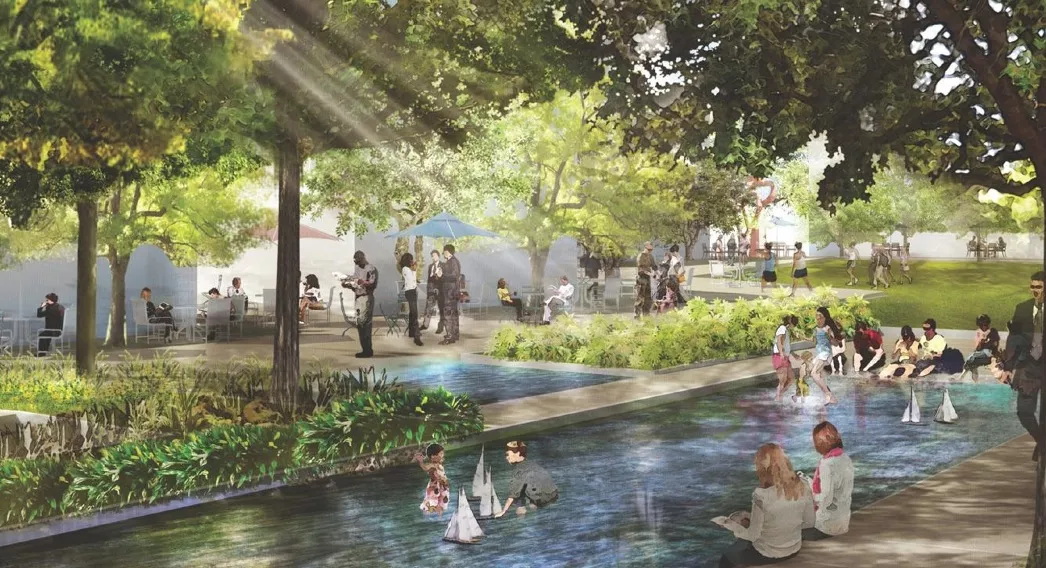 Artist concept for The Shallows in the planned Hemisfair civic park. Courtesy of Hemisfair Park Area Redevelopment Corporation.
The folks behind the Hemisfair redevelopment are seeking public input on the three concepts drawn up for the urban park district. An online survey has been set up to collect citizen feedback and opinion regarding the downtown park's design.
The revitalization of Hemisfair is a cornerstone of former Mayor Julián Castro's "Decade of Downtown" initiative, and the effort to overhaul the site of the 1968 World's Fair continue to move forward even though he has decamped to Washington D.C. to join President Barack Obama's cabinet.
The plan is to reinvigorate the underutilized space in the city's urban core by creating a world-class park district, a mixed-use space comprising open-air plazas, green spaces, multi-family residences and venues for food and retail. Phase one, the recreational area dubbed the Yanaguana Garden is expected to open to the public next year. But the site in question for the purpose of the survey is the as of yet unnamed civic park, phase two of the redevelopment project.
The civic park will replace the older portion of the Henry B. Gonzalez Convention Center at the corner of Alamo and Market Streets, one of the most pedestrian-heavy areas of downtown. The proposed design, a joint effort of Alamo Architects and Seattle-based firm Gustafson, Guthrie, Nichol, incorporates six core spaces united by a promenade. The three major areas in the design include the Zócalo, a plaza that serves as a gateway between downtown and the civic park; the Lawn, a centrally located green space that can support large events and festivals; and the Shallows, a shaded, ankle-deep wading area that will bridge the civic park to the other areas of Hemisfair. Three design scenarios for the civic park have been proposed, and the Hemisfair Park Area Redevelopment Corporation is seeking public input.
Survey takers are asked to review a slide presentation that outlines the concepts before submitting their feedback. This is the same presentation that was given at the Hemisfair Park Civic Workshop that was held in July where over 250 participants shared their thoughts on the civic park design.
The goal is to gather 1,000 responses with representation from every zip code in the city. Input will guide the architectural firms as they refine their design. Survey responses will be collected through September 15.