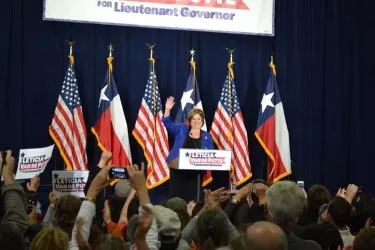 Photo by Mary Tuma
Sen. Leticia Van de Putte (D-San Antonio) released her first two 30-second television ads in the race for lieutenant governor, one in English and one in Spanish, focusing on education and attacking her Republican opponent Dan Patrick for voting to cut public education funding.
According to the campaign, Van de Putte's ads will run in multiple media markets, including those with a large Latino populations.
Watch her English ad, entitled "Twice," which calls out Patrick's 2011 Senate votes to cut public education funding in the state budget, as well as 2013.
"...many Republicans realized the price was too high, and worked with me to restore some of those cuts to protect our economic future," she says in the video. "But for a second time Dan Patrick voted against our kids."
Her Spanish-language ad is called "Respeto," which is a more personal story and features old family photographs.
Since the beginning of her campaign, Van de Putte has faced the challenge of getting her name and personal story to voters beyond those in San Antonio and the Austin political elite. The ads are a step in that direction.
"For most Texas voters, she's a virtual unknown and she faces a serious challenge between now and the start of early voting to actually introduce herself to them," said Mark P. Jones, chair of Rice University's political science department. "And if you're going to actually reach Texas voters, you need to be on open air TV."
This week saw no shortage of new campaign ads. Republican candidate for Texas governor Greg Abbott released his latest, which is more personal and biographical. His Democratic opponent Wendy Davis released her third ad, targeting Abbott on education.