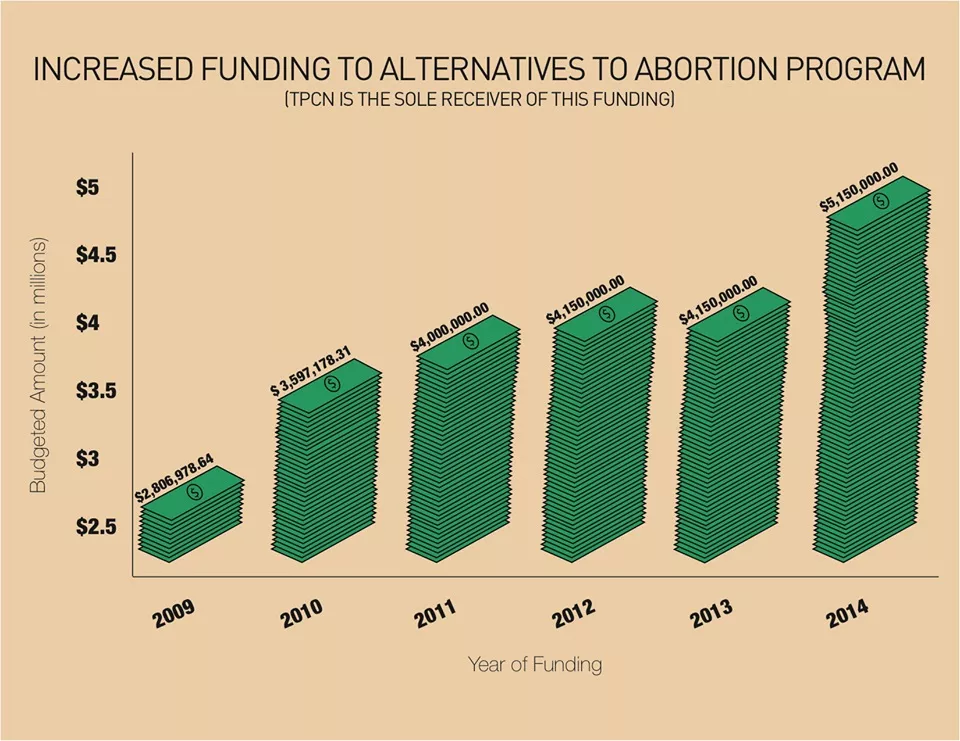 The Texas Legislature has increased the funding to the Texas Alternatives to Abortion Program over the years. Texas Pregnancy Care Network receives almost 100% of the program's funding. Courtesy NARAL Pro-Choice Texas
An updated investigation of crisis pregnancy centers in Texas by NARAL Pro-Choice Texas reveals personnel at the centers continue to use misinformation, scare tactics, and questionable practices when speaking with women about their unintended pregnancies.
Crisis pregnancy centers, billed as well-rounded resource centers but that have been found to use discredited, inaccurate information without offering full medical care, have received millions in state funding over the last few budget cycles. In fact, when money from the state's family planning program was dramatically cut by the Texas Legislature in 2011 (leading to the closure of dozens of medical clinics and thousands of women losing contraceptive and preventive care services), some was diverted to the Texas Alternatives to Abortion Program to fund crisis pregnancy centers and other anti-abortion initiatives. The most recent state budget passed allocates more than $10 million to the program over the next two years, and crisis pregnancy centers also receive state dollars through the Choose Life license plate fund.
NARAL has been consistently investigating crisis pregnancy centers over the years, issuing the last report in 2011. Investigations show that these centers do not in fact offer medical care, though they are often disguised as if they do. This year, NARAL volunteer investigators of reproductive age visited 16 clinics this year in Austin, Dallas, Houston, Bryan/College Station, El Paso, and the surrounding areas. The women who participated had a variety of questionable and troubling experiences, including hearing widely discredited information from counselors about the link between abortion and breast cancer risk, which has been debunked by the American Congress of Obstetricians and Gynecologists. Investigators also reported that staff dissuaded them from seeing a physician.
[Related: "While Cutting Family Planning Funds, Texas Lawmakers Divert Millions to Crisis Pregnancy Centers"]
One investigator reported that the volunteer counselor she met with did not give her a pregnancy test but that she did get an ultrasound, which women seeking an abortion are required to get at least 24 hours before the procedure thanks to the 2011 sonogram law. As NARAL points out in its investigation, abortion clinics will not accept sonograms performed at crisis pregnancy centers, as the law requires that they be performed by licensed physicians or certified sonographers. "CPCs are aware of this, but do not tell their visitors," NARAL writes. CPCs often offer free sonograms to exploit women, the investigation shows.
"When I went in to the CPC for my appointment, I was taken to the ultrasound room after a volunteer counselor and missionary discussed my pregnancy options with me and discouraged me from seeking an abortion," one investigator wrote. "They never gave me a pregnancy test. The missionary performed the ultrasound. At first she told me she could not see anything, but after several minutes she told me she was pretty sure she could see my 'baby' even though in reality, I wasn't pregnant."
(Read more firsthand accounts and watch videos from the investigation here.)
NARAL Pro-Choice Texas executive director Heather Busby told the Current via email that volunteers tried to visit a crisis pregnancy center in San Antonio, but despite posted hours, the center was never open when they went.
The investigation comes as Texas' most restrictive abortion bill is tied up in court and providers await word from the 5th Circuit Court of Appeals on whether the state can immediately enforce all the restrictions. The law imposes strict standards on Texas' licensed abortion facilities, including requiring physicians to obtain admitting privileges at nearby hospitals and requiring that facilities meet expensive ambulatory surgical center standards deemed medically unnecessary by national medical groups. So far, these two provisions of the law have forced about half of Texas' abortion clinics to close. Once it takes effect, Texas will lose all but seven or eight abortion facilities.
"While abortion clinics are regulated out business, crisis pregnancy centers thrive in Texas and many receive state funding," Busby said. "Our research reveals that these centers put their anti-abortion ideology above the health and safety of their visitors. We already knew that crisis pregnancy centers lied to their visitors, but our investigation revealed just how far these centers are willing to go to coerce a person into continuing an unintended pregnancy."