Texas Parks and Wildlife Department
Workers lower concrete structures into the Gulf of Mexico. This will create an artificial reef.
Last month, state and federal Natural Resource Damage Assessment trustees approved five projects, including three artificial reefs, to compensate Texas for lost resources due to the BP Deepwater Horizon oil spill.
According to the Texas Parks and Wildlife Department, the five projects, which total about $18 million, are part of a larger plan that includes 44 projects across the Gulf, which total an estimated $627 million.
"About 63 percent, or $397 million, of the projects address ecological losses. The remaining 37 percent, or $230 million, address lost recreational service," TPWD said in a news release.
Here's a breakdown of the artificial reef projects:
Ship Reef (HI-A-424): This project aims to enhance fishing and diving opportunities by sinking a ship that is 200-feet long, creating an artificial reef 67 miles offshore of Galveston. If this doesn't work out, a reef project off of Corpus Christi will get the funding instead. In this situation, the Corpus Reef would increase the number of concrete pyramids at an existing site, approximately 10 miles north of Packery Channel. Funding to the tune of $1.9 million was approved.




Freeport Artificial Reef (Brazoria County): This is the Liberty Ship Artificial Reef, which is approximately 6 miles away from Freeport. For this project, $2.2 million in funding will increase the number of concrete pyramids at the existing reef.


Matagorda Artificial Reef (Matagorda County): This will be a brand-new artificial reef. With $3.6 million in funding, authorities will create the artificial reef with concrete pyramids in 60 feet of water 10 miles offshore from Matagorda County.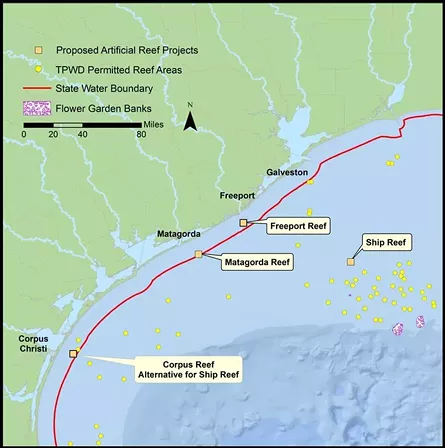 Texas Parks and Wildlife Department
This map shows three artificial reef projects that just got an influx of funding, which derived as compensation for lost resources during the BP Deepwater Horizon oil spill.
The TPWD artificial reef program is awesome and makes a difference in Texas waters.
Click here
to learn more about the program.