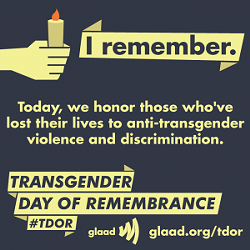 November 20 is
Transgender Day of Remembrance
, an annual observance that honors the memories of those who lost their lives as a result of anti-transgender violence.
According to Transgender Day of Remembrance website,
81 transgender men and women
are known to be murdered in acts of anti-transgender violence since November 20, 2013. Eleven transgender men and women have been murdered here in the United States during this same period. Brazil dominates the list of victims, but killings have impacted this community worldwide.
Two murders involving transgender victims
took place in Texas in 2013, including an unidentified woman found floating in a gully in northwest Houston last July.
Founded by
Gwendolyn Ann Smith
, the Transgender Day of Remembrance began in 1999, one year after the murder of Rita Hester, a well-known activist in Boston's LGBT community. Hester was stabbed 20 times in her apartment and died of cardiac arrest shortly after being admitted to the hospital in 1998. Her murder is still unsolved.
Members of the transgender community are more prone to be victims of hate violence, especially transgender people of color, who, according to the 2011 Hate Violence Report compiled by the Anti-Violence Project, are 28 percent more likely to experience physical violence compared to the rest of the population.
Here's a video from GLAAD featuring transgender women reflecting on their experiences. You can learn more about the Transgender Day of Remembrance on
GLAAD's website
.