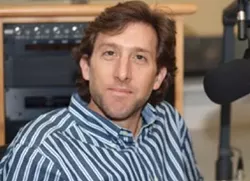 Courtesy
Hernán Rozemberg, the new editor-in-chief for the San Antonio Current.
Euclid Media Group, the parent company of the
Current
, has announced the appointment of veteran journalist Hernán Rozemberg as the new editor-in-chief for the San Antonio alt-weekly. Rozemberg will assume the helm of the
Current'
s editorial team beginning January 13, 2015.
"Hernán is a beast," said
Current
Publisher Michael Wagner. "We are fired up to start 2015 with him leading our editorial team and driving our continuous growth."
Rozemberg joins the
Current
with 20 years of print, broadcast and digital journalism experience. He has worked at numerous regional and national publications, including the
San Antonio Express-News
, where he covered immigration and border issues as a senior writer. He also specialized in multimedia reporting as senior correspondent and San Antonio bureau chief for Fronteras, an NPR news initiative covering issues impacting the Southwestern United States. Following his time with Fronteras, he directed a digital news operation as a Senior Editor for News Corp., in New York City. Currently he serves as the Metro Editor for the
LaFayette Journal and Courier
in Indiana.
Rozemberg's move to the
Current
marks his homecoming to San Antonio, where he lived for a decade, and his return to alt-weekly publications. He got his start in journalism at an alt-weekly after earning a degree in political economy from the University of Massachusetts at Amherst. Rozemberg also has a masters in international relations from St. Mary's University.
"That experience convinced me that I made the right choice pursuing journalism," Rozemberg said. "I absolutely loved it and now, many grey hairs later, I still carry the same fire in my belly about this craft."
Rozemberg will spearhead the editorial direction for the
Current
's print and digital platforms.
"It's a challenging time in today's ever-changing media landscape," he said. "Yet the
Current
remains strong, still providing a vibrant voice in San Antonio."