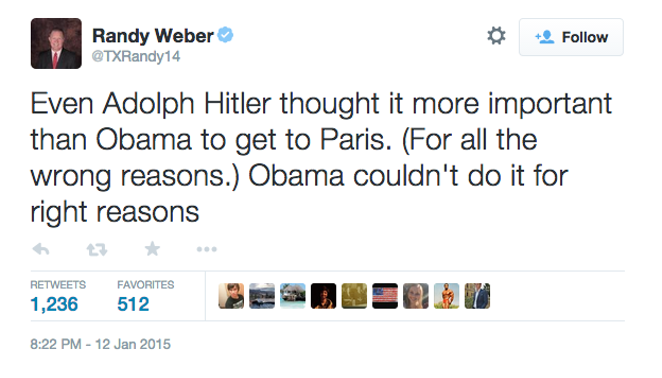 After referencing Adolf Hitler in a tweet responding to President Obama's absence at an international
rally
in France honoring the deaths of
Charlie Hebdo
reporters, Congressman Randy Weber, a Republican representing Friendswood near Houston, is walking it back.
Yesterday evening, Weber sent the following
tweet
to his social media followers: "Even Adolph
[sic
] Hitler thought it more important than Obama to get to Paris. (For all the wrong reasons.) Obama couldn't do it for right reasons"
Today, Weber
apologized
for the obvious egregiousness for his remark:
I need to first apologize to all those offended by my tweet. It was not my intention to trivialize the Holocaust nor to compare the President to Adolf Hitler. The mention of Hitler was meant to represent the face of evil that still exists in the world today. I now realize that the use of Hitler invokes pain and emotional trauma for those affected by the atrocities of the Holocaust and victims of anti-Semitism and hate.

The terrorist attacks in Paris should remind us of the evil that still exists. Hitler was the face of evil, perpetrating genocide against six million Jews and millions of other victims. Today, we are facing the evil of Islamic extremists who are attempting to instill fear and murdering the lives of innocent people from Paris to Nigeria to Jerusalem and all over the world. The President's actions or lack thereof is my point of contention. Islamic extremists have shown they are not going away, and instead are hungry for more blood.

After World War II, the world made a commitment to 'Never Again' allow terror free reign. As demonstrated by the Paris Peace Rally, we must all –Christians, Jews, Muslims, leaders around the world and those willing to fight for freedom – unite and stand strong together against radical extremism in any form.
Thanks, Weber. We're glad you now realize your error.