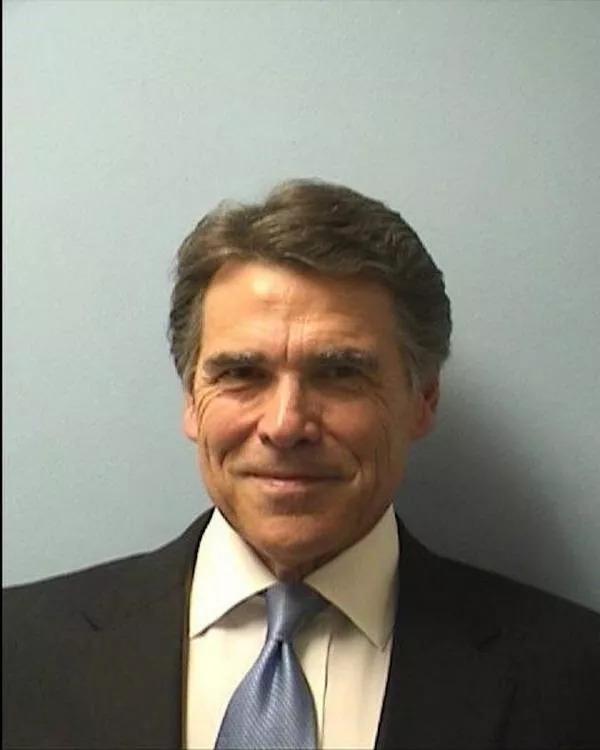 Courtesy Image
Former Gov. Rick Perry was indicted on two felony counts of abuse of power and coercion of a public servant last August.
San Antonio-based Judge Bert Richardson on Tuesday rejected a second request by Rick Perry's attorneys that the criminal case against the former Texas governor be dismissed.
Perry's lawyers contend he acted within his authority when he threatened to veto funding for the state Public Integrity Unit in 2013 after Travis County District Attorney Rosemary Lehmberg was arrested and charged with drunk driving. When Lehmberg refused to resign, Perry vetoed more than $3 million in state dollars for the PIU.
Perry was
indicted on August 15 of last year
on two felony counts of abuse of power and coercion. San Antonio-based attorney Michael McCrum served as special prosecutor in the case. Perry was officially arraigned at a Travis County courthouse a few days later, though he didn't serve jail time.
After failing to get the case dismissed for a second time, Perry's lawyers indicated Tuesday afternoon that they plan to appeal Richardson's decision to the 3rd District Court of Appeals.
"Continued prosecution of Governor Perry is an outrage and sets a dangerous precedent in our Democracy," lead attorney Tony Buzbee said in a statement.
Texans for Public Justice, a watchdog group based in Austin, filed the original complaint against Perry that eventually led to the charges. Following Tuesday's announcement that the case would continue, TPJ director Craig McDonald praised Richardson's decision.
"The prosecutor and a grand jury have said there's compelling evidence against Perry," he said in a statement. "That evidence should be presented in court for all to see."
Perry is the longest serving governor of the state of Texas and has indicated he has his eye on a second run at the presidency. The indictment and pending charges haven't put a damper on those plans; Perry has been bouncing around the country in the last few weeks appearing at gatherings hosted by conservative groups.
The appeal, according to reports, could take months.