A volunteer firefighter in Hunt County near Dallas is potentially facing animal cruelty charges after publishing a bloody photo of two dead dogs.
(Warning: Graphic Image Below)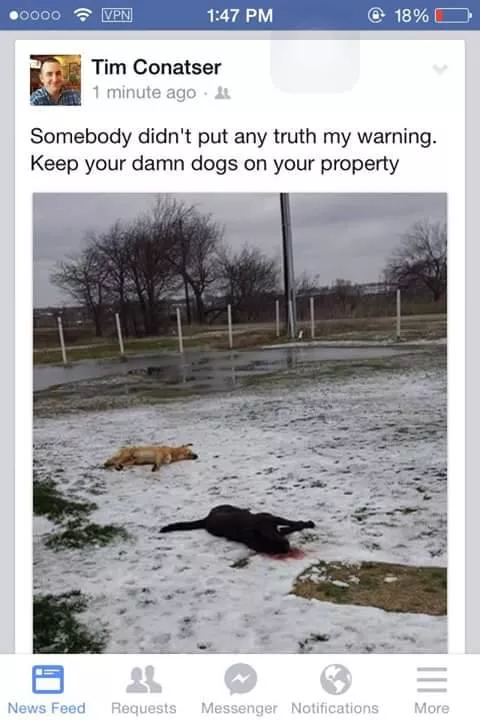 Tim Conaster was forced to resign his position with the Union Valley Fire Department after he allegedly shot and killed two dogs on his property and published a photo of the aftermath on Facebook. The caption read, "Somebody didn't put any truth my warning. Keep your damn dogs on your property."
The graphic image erupted a firestorm on social media from animal lovers. Second Change Rescue in New York City
republished the photo
with the warning, "Watch your dogs, Texas."
Tim Conaster, who volunteered for the Union Valley Fire Department, published a photo of two dogs he allegedly shot and killed.
According to Fox4 in Dallas-Fort Worth
, the owners of the animals — Gordo, a black lab, and Spike, a yellow lab — were not aware that their pets were dead until contacted by the station. They told Fox4 they never received any complaints about their pets.
Fox4 also reported that the SPCA and the Hunt County Constables Office are investigating the matter to determine whether to file animal cruelty charges against Conaster. The investigation must determine whether the animals posed a threat to person or livestock in order to justify the killing.