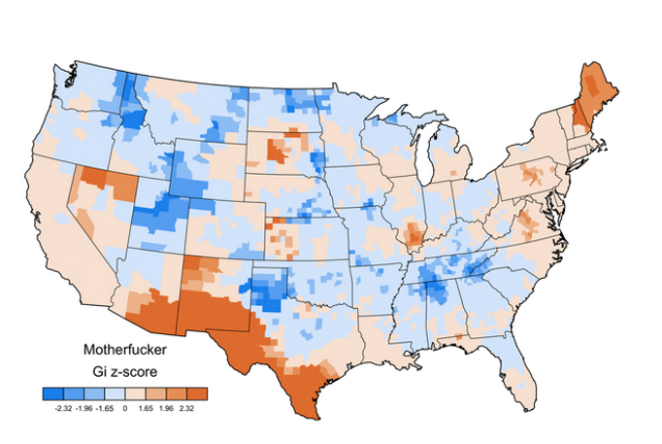 Bexar County tweeters have a filthy vocabulary. Don't believe me? Just look at the motherfucking map above. It pinpoints the areas of this damn country where the vulgarism "motherfucker" is more frequently used.
You see that dark orange band that spans westward from the Texas Gulf Coast to Arizona? That ochre area is populated by foul-mouthed shitheads who aren't content with uttering a basic "fuck." No, they have to get your mother involved.
The "motherfucker" map is just one in a series that identifies which counties use certain curse words more than others. They were created by Jack Grieve, a forensic linguistics professor at England's Ashton University. Grieve compiled the maps using geotagged data from almost a billion tweets collected between October 2013 and November 2014. He provided Gawker with
an explanation of all the technical bullshit.
For any word (e.g. fuck) we measure its relative frequency in each county by diving the total number of occurrences of that word in that county by the total number of words in that county.

We take that raw map and smooth it using a hot spot analysis (a Getis-Ord Gi local spatial autocorrelation analysis).

We map the Getis-Ord z-scores to identify clusters. Specifically, a high z-score means that that county is in the midst of a region where that word is relatively common, a negative z-score means that that county is in the midst of counties where that word is less common.

If you have any fucks to give, there are some interesting conclusions you can glean from the rest of the cartographical series.
For instance, there may be a small "motherfucker" belt, but there is a massive "shit" belt that spans the Gulf and Atlantic coasts, from Texas to New York City.
"Shit"


Meanwhile, almost the entire country is consumed by a "fuck" ring that hugs the country's coastal and southern borders.
"Fuck"

They say "bitch" a lot in the South, which may mirror the region's stereotypical attitudes towards women.
"Bitch"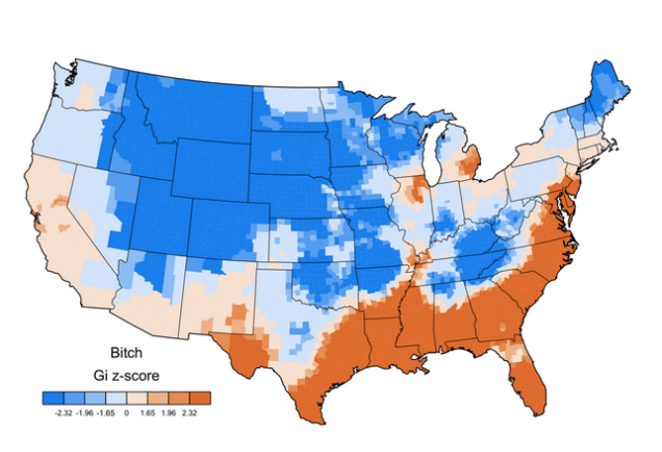 Meanwhile, "darn" is more popular in the exact portion of the country you'd expect it to be.
"Darn"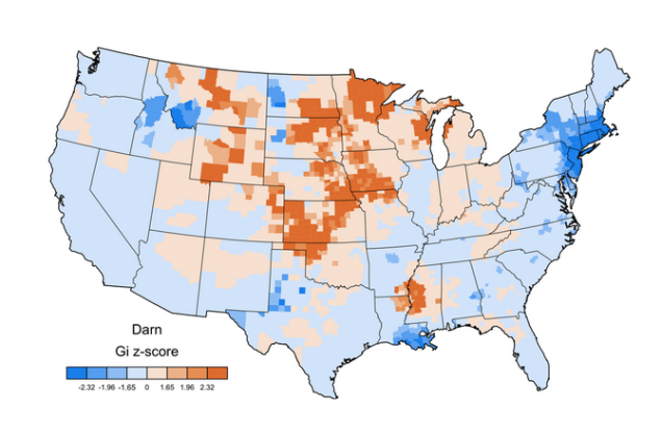 Do you want to know where in the country the other F-word — you know, the really,
really
bad one — is most popular? Head over to Gawker and
check out the rest of the fucking series.
[h/t Gawker]