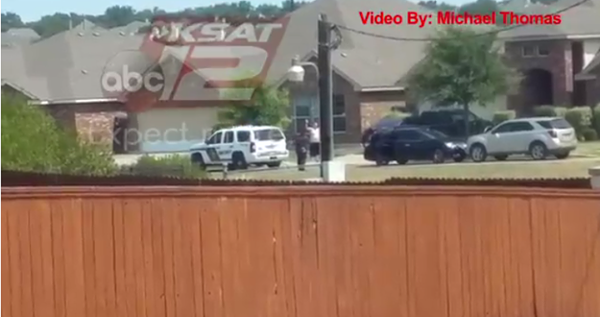 Update: September 2, 2015, 3:30 p.m.:
Juan Contreras, president of the Deputy Sheriff's Association of Bexar County released this statement: I support and stand by my members 100%. I ask that no member of our society rush to judge the incident simply based on the short video clip shown by the media. There are many facts in this case that the public are not aware of. I believe that when the investigation is complete, the members that I represent will be cleared of any wrong doing. This is a difficult time for many and rightfully so. I have total confidence in the process and patiently await the outcome of the investigation.



Original post continues below:
After Bexar County Sheriff Susan Parmerleau offered few new details during a press conference addressing the shooting of 41-year-old Gilbert Flores, the
San Antonio Express-News
published a story citing two anonymous sources that shed more light into how the shooting played out.
The
Express-News
reports that two law enforcement officials
who spoke to the paper on the condition of anonymity, told a reporter that Flores did have a knife and at one point lunged at one of the deputies, who defended himself with a shield.
From that report:
"He would have stabbed the deputy if he did not have that shield," said one of the sources. The other deputy tried to use a Taser on Flores, but the probes didn't completely strike him. At one point, Flores tried to get back in the house, then into a personal car and also in a BCSO squad car, but couldn't.
According to the
Express-News'
sources, Flores kept telling the deputies they would have to kill him.
Flores was shot by the two deputies who were responding to a domestic disturbance, and the FBI has opened up a civil rights investigation into the shooting.
Congressman Joaquín Castro has called on Pamerleau to release a second video showing the altercation to the public and questioned why the sheriff's department is unable to say whether Flores was armed with a knife.
The Bexar County Sheriff's Department has asked for patience and has cited an ongoing investigation for its reason not to release the second video or much more information about shooting.
Bexar County District Attorney Nico LaHood
told Fox 29 that he expects
the receive the case by the end of the week.
According to the
Express-News
,
a review of radio traffic published
on Broadcastify, a website that posts police, fire and EMS radio traffic, showed that Flores threatened "suicide by cop."
Authorities have called the shooting "troubling" and Flores' family has retained a high-profile law firm.