Mon 3/21

Break Fast and Launch Dinner Day
Come out and entertain your taste buds at this celebratory culinary event. Join culinary experts,entrepreneurs and lovers of cuisine as an array of vendors set up and display their products and food for all to explore and learn.
Free, 5pm, Mon,Blue Star Arts Complex, 1414 S. Alamo Street, Ste 117-2,
(210) 354- 3775,
bluestarartscomplex.com
The People's Nite Market

Tue 3/22
The second season of The People's Nite Market has kicked off and welcomes you to indulge in a variety of fresh, locally grown produce and products in promoting a healthier lifestyle. The Lonestar and EBT will be also be accepted for purchases. Free, 6-10pm, Tue, La Villita Maverick Plaza, 418 Villita St.,
(210) 207- 8614, www.facebook.com/events

Latino Americans :"War and Peace (1942-1953)"


<!————EndFragment————>
Wed 3/23


Join the A&M-San Antonio Library for a film screening and discussion of the Award Winning PBS Documentary Latino Americans, episode three with Dr. Amy Porter, Associate Professor of History and Dr. Edward Westermann, Professor of History at A&M-San Antonio. A twelve panel exhibition titled "Images of Valor: U.S. Latinos and Latinas in World War II" will also be on display during the event. Refreshments will also be provided
.
Free, 5-7pm, Wed, Texas A&M University-San Antonio, One University Way, (210) 932- 6299,
libguides.tamusa.edu
Tom Gillam & The Cosmic Messengers
Wed 3/23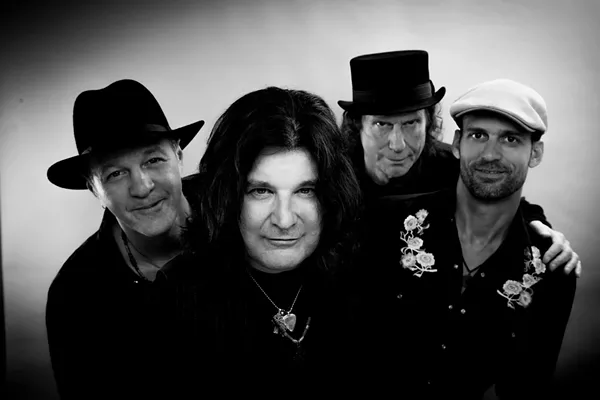 Join guitar rock band Tom Gillam & the Kosmic Messengers as they lure you in with their catchy hooks and uniquely crafted tunes from their new album, "Beautiful Dream" at Gruene Hall.
Free, 6-10pm, Wed, Gruene Hall, 1281 Gruen Rd., (830) 606- 1281,
gruenehall.com
Straight from Mexico City Opening Reception <!———EndFragment———>

Thu 3/24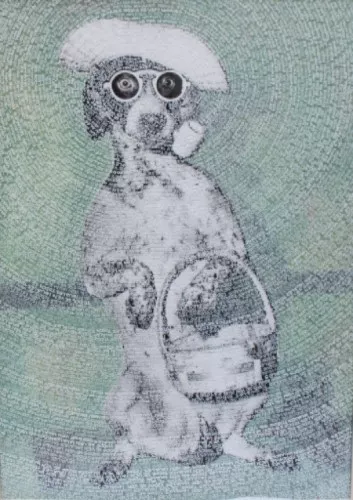 Eugenia Martinez
Perro con Lentes, piezography on canvas, glazed paint and plexi, 55.7 x 40.4"
Ruiz-Healy Art is pleased to present
Straight from Mexico City-
-allowing us to question the cultural context of our time and the history of painting itself with guest artist's such as Eugenia Martínez, Kanako Namura, Manuel Solano, and Rafael Uriegas with guest curator Octavio Avendaño Trujillo.
Free, 6-8pm, Thu, Ruiz-Healy Art, 201-A East Olmos Drive,
(210) 804- 2219,
ruizhealyart.com

The Passion of the Christ

Thu 3/24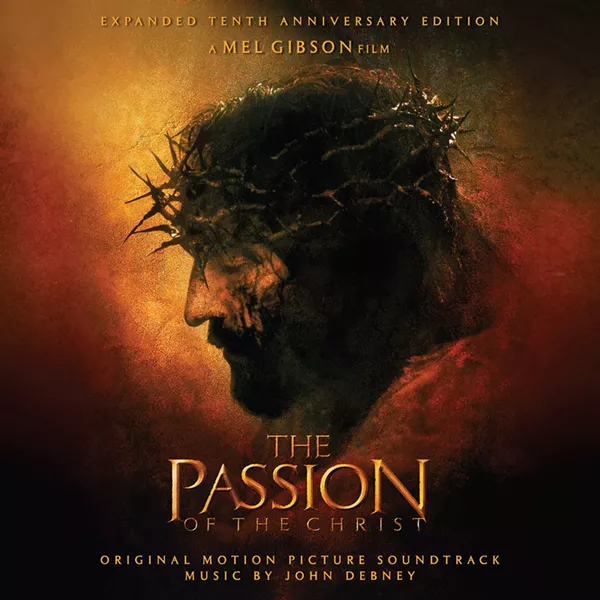 Relive Christ's crucifixion in Mel Gibson's powerful version based on the New Testament. Judas expedites the downfall of Jesus (Jim Caviezel) by handing him over to the Roman Empire's officials. To the horror of his mother, Mary (Maia Morgenstern), Magdalen (Monica Bellucci), whom he saved from damnation, and his disciples, Jesus is condemned to death. He is tortured as he drags a crucifix and nailed to the cross meeting his death but not before a last act of grace as he is risen again.
Free, 7pm, Thu, Santikos Bijou, 4522 Fredericksburg Rd., (210) 734- 4552,
www.santikos.com
<!——StartFragment——>
Open Studio and Exhibition at the Graduate Studios - Sculpture and Ceramics

Thu 3/24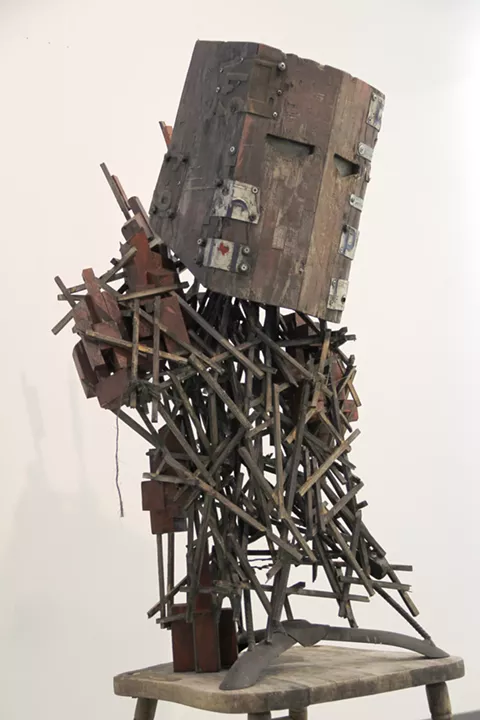 As part of Contemporary Art Month UTSA will he hosting an exhibition/open house along with outdoor installations and performances. Artist include John Atkins, Justin Korver, Eden Collins Verena Gaudy, Braydon Gold, Jason Gonzales, Christopher Hardgrove, Kallie Pfeiffer, and many more.
Free, Thu, 6-9pm, UTSA, UTSA Blvd, (210) 630- 0235,
contemporaryartmonth.com
This Is What It Feels Like
with Braydon Gold and Raul Gonzalez
3/25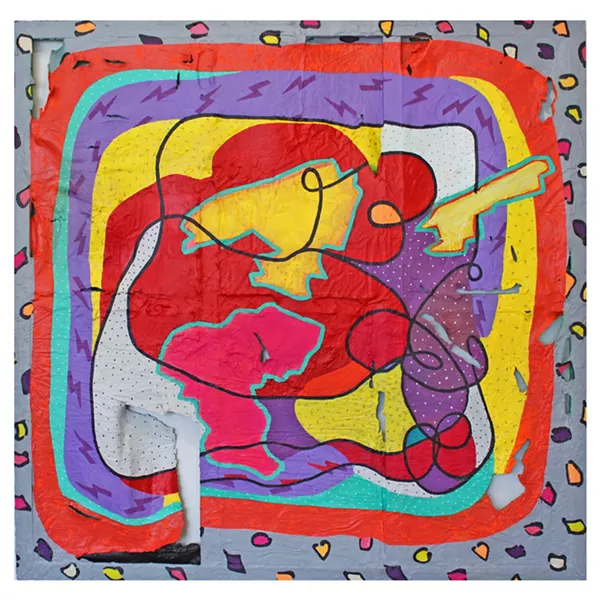 Raul Gonzalez
No One Told Being A Father Would Feel Like This
Radius center will hosting exhibition,
This Is What It Feels Like,
featuring the artwork of Braydon Gold and Raul Gonzalez. Combining simplified elements such as color,shape, and basic mark making, these artists express personal struggles and complexity through their abstract paintings.
Free, 6-9pm, Fri, Radius Center, 106 Auditorium Circle, (210) 227- 8111
,
radiuscenter.org
University Health System- Fitness on the Plaza

Sat 3/26


Kick your day off with some exercise and join JoyRide Cycling Studio for a complimentary JoyCircuit class on the plaza led by JoyRide instructor & Lululemon Athletica Ambassador Jason Padilla. Grab a friend and tone up those hard-working muscles in a 1 hour circuit style workout!
Free, Sat, 10am, Tobin Center for the Performing Arts, 100 Auditorium Circle, (210) 223- 8624,
joyridestudio.com

Sandra Cisneros: Up Close and Personal- 2016 Autograph Reading

3/26


Sandra Cisneros, author of several books including
The House on Mango Street, Caramelo, Loose Woman, Have You Seen Marie?,
and most recently
, A House of My Own
, will give a free public reading followed by a Q&A and book signing at Palo Alto College's Performing Arts Center. Don't miss your chance to get up close and personal with this literary icon who has been writing for more than 45 years, publishing for more than 40, and earning her living by her pen for more than 20 years.
Free, 7pm, Sat, Palo Alto College, 1400 W. Villaret Blvd, (210) 921- 5629,
facebook.com/events